The 2020 Summer Games have been postponed until next year, but in the meantime, Tokyo's Shibuya district has achieved such great change, it is being labeled a development that happens "only once in a hundred years."

Today, we'll introduce "Shibuya Sky," a new tourist attraction and rooftop observation point 230 meters above the ground! We'll also take you to Shibuya Alley, the best place to sample local food from all parts of Japan, and to NoboRock, the home of excitingly colorful bouldering walls.

SHIBUYA SKY
Come to the top of the recently opened Shibuya Scramble Square and you will find Shibuya Sky, the newest and highest observation attraction point in Shibuya, offering a bird's-eye view of the world-famous Shibuya Scramble Crossing a whopping 230 meters up high!

Ride a truly unique "TRANSITION POD" elevator that starts at the 14th floor and rises over 30 floors in one jump! The final step is taking an escalator that brings you right out onto the roof!

Here at the top, you'll find only a single wall of glass separating you from a 360 degree panorama view of Tokyo. You can enjoy it while walking around, lie down and look at the sky on the "CLOUD HAMMOCK". There are even standing bar tables where you can set your drink as you take in the view.

On days with bad weather, head to the lower levels, and you'll find an exciting gallery and music bar that can be enjoyed in any kind of weather! You'll find "PARALLEL WINDOWS" and interactive displays where the scenery changes as you move!

Be sure to visit "Paradise Lounge" on the 46th floor. Enjoy a menu of light meals, sweets and drinks as you overlook Shibuya Stream and Ebisu. And on your way out, you'll want to visit the "SHIBUYA SKY SOUVENIR SHOP" and pick up a box of chocolate "Hachichoko," designed after the famously loyal, Hachi.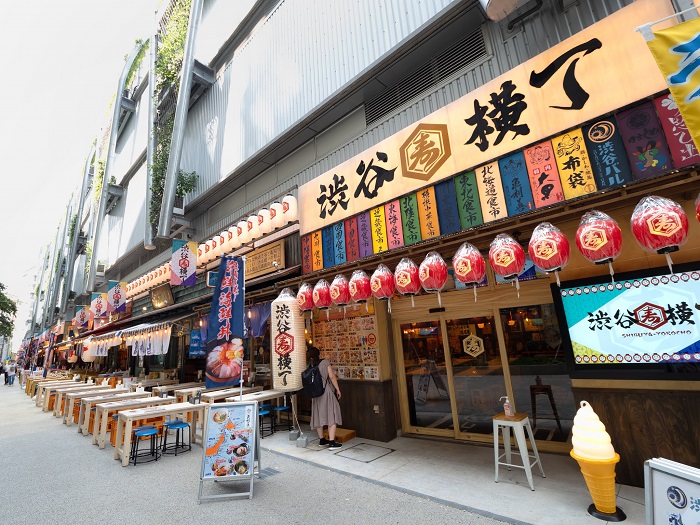 SHIBUYA ALLEY
Shibuya Alley is a wonderland of soul food from all over Japan! You'll find local ramen, rice bowls, dumplings, yakitori and more local foods from places ranging from Hokkaido to Okinawa! With nearly 20 stores, you're sure to find something new with each visit.
In addition to finding great food, you'll find a variety of entertainment including festivals, enka singing, and live DJ performances at Shibuya's new "hangout".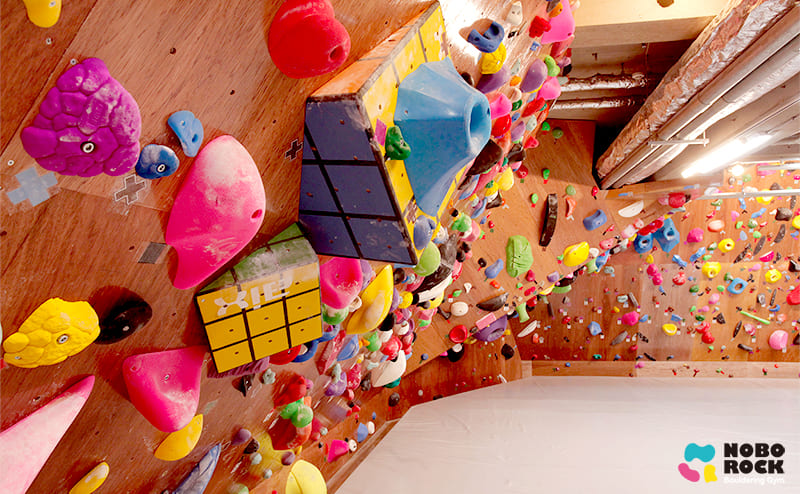 NOBOROCK
Shibuya is in the heart of the largest metropolis in the world, but there are exciting activities here that are traditionally considered "outdoor" activities! Starting from next summer's Games, bouldering will be included as an official event of the Games!
Of course, they take infection prevention as seriously as bouldering itself, so you're sure to be able to relax and enjoy the rigorous challenges of bouldering – and all in an excitingly colorful, indoor environment! This is an ideal place for active people of all ages and a fun way to add to your next visit to Shibuya!
We're looking forward to the Summer Games! There is so much for sports lovers to do before, during and after the Games, right here in Shibuya! Visiting these sites will be a great way to experience the Games first hand and make great memories!
Look here for further information on experiences you can do in Shibuya area.
https://www.sportsjourney.jp/areas/shibuya