When I first moved to Tokyo in 2018, I had never lived in a large city before. Originally from a small country town in England, I still can't believe my luck that I get to live in the biggest metropolis in the world.

As somebody who enjoys the bustle of the city, I spend a lot of my weekends in Ginza, one of Tokyo's top shopping districts. On Saturdays and Sundays the main street, Chuo Dori, is free of cars and people can walk freely among the tables and chairs placed in the street. I like to grab a coffee to go and take a seat at one of the tables. This gives me the perfect opportunity to take in the atmosphere of the city, admiring the high-rise buildings towering over me. It's also a really nice way to get out and enjoy the area without having to worry too much about maintaining social distance in stores, even though Tokyo is now very well adapted to the new normal.

I also make time to walk through the luxury department stores in the area, such as Ginza Mitsukoshi. The iconic department store now takes your temperature on entrance as a protection measure against Covid-19, but once you are in, there is so much to see. One of my favorite things to do is browse the ornately decorated Japanese cakes and sweets—it's almost like taking a walk through an art museum!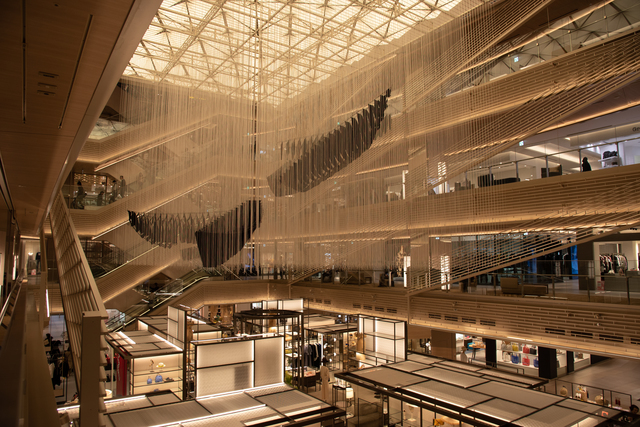 Another place to get lost in is Ginza Six, a luxury shopping center designed by architect Yoshio Taniguchi. While the building itself is something to marvel at, it is also home to many stores and restaurants. I regularly go up to the top floor and enjoy some lunch, taking in the views of the streets below. The shopping center has mesmerizing art installations displayed throughout the building, as well as an art museum. They have gone to great lengths to ensure visitors' safety. People are now required to wear a mask upon entering Ginza Six, and throughout the building, social distancing marks have been placed on the floors and in bathrooms. In addition, hand sanitizing stations have been placed in multiple locations.
As much as I love spending a lazy Saturday morning wandering the streets, the area has a lot to offer in the evening. It's home to many ritzy bars and upmarket restaurants, so you can always find somewhere impressive to grab a drink.
However, If you're looking for somewhere a little more casual the neighboring district, Yurakucho, offers a more traditional Japanese atmosphere. Located directly underneath the train tracks that run through the neighborhood is a wide variety of izakayas. I love seafood, so my personal favorite is Andy's Izakaya. This eatery is popular with foreigners and actually owned by an Englishman called—you guessed it—Andy.
The sheer variety of things to see and do is why I love this area so much—in one short walk you can find exactly what you are looking for.