Hi, I'm Mike Kato, a 3rd-generation Japanese American from California. I've been living for nearly 35 years in Japan, most of it in Tokyo. I am a consultant and writer- in sustainability, rural revitalization, and health/well-being. I love sports, especially outdoor sports, and keep fit with a healthy diet and lots of walking. 2020 has been difficult because of COVID-19, not only staying and working at home, but because I haven't been able to travel and work in rural Japan.

Staying Healthy in a With-Corona World
For me, staying healthy means more than just keeping viruses at bay. It means keeping fit and enjoying quality of life. I can't do this without enjoying the physical world around me like seeing the plant and animal life shift with the seasons.
From round about now, all areas of Tokyo will be covered with the colors of autumn.
It really takes your breath away that you can enjoy the beauty of autumn, and see such unbelievable scenery, in such a great metropolis.

Favorite Spots in a Healthy Tokyo Life
Walking and hiking are one of the most important ways that I keep fit and aware of the natural world in Tokyo. As such, some of my favorite places to walk are some of Tokyo's great parks. Two such parks are among the less well-traveled in this densely populated metropolis–Shakujii and Zenpukuji Parks.

Both parks are dominated by bodies of water–lakes, ponds, and rivers–giving hints as to what the two areas might have looked like in the distant past. Like many parks in Tokyo, they have playgrounds and in the largest lakes, rental rowboats. But the two also have more interesting and murky sides, too. Both have what are commonly referred to as "kami" and "shimo" lakes. Their meaning, respectively, upper and lower, refer not only to size, but also, it seems, popularity.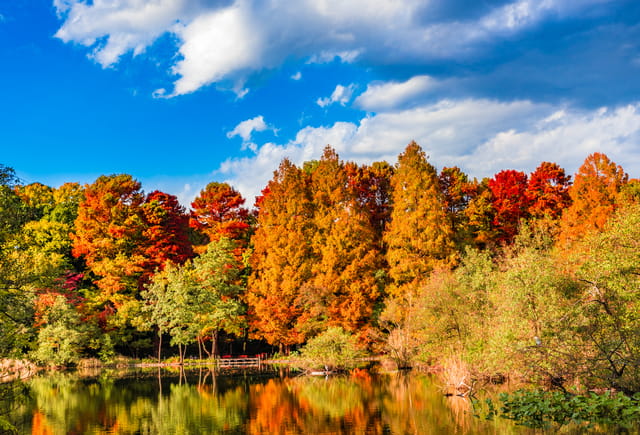 Shakujii Koen
Shakujii Koen has two main lakes and one pond. It is also very close to Shakujii River, which probably is the original source of the park's bodies of water. The larger lake is where most people do their walking, jogging, and play. But the lower lake is home to many birds, local and migrating, and is popular among photographers.
Zenpukuji Koen
Zenpuji Koen, too, is dominated by "kami" and "shimo" lakes. There is also a small waterfall in one corner of the larger lake, which indicates the source of the water. This comes from deep underground and becomes the source of the Zenpukuji River, that flows for around 10 kilometers until it merges with the Kanda River.The lower lake of Zenpukuji Koen is dominated by grassy islands, which make it a home for birds, frog, turtles, and many insects. Here, too, you can find photographers pointing their telephoto lenses into the lush growth, trying to catch great photos of rare birds.
While there are many joggers, rowers, and kids playing in both Shakujii and Zenpukuji Parks, there is a lot of seclusion, too. The lower lakes and other areas in both are much less occupied than the larger main lakes.
When I walk around western Tokyo, in Suginami and Nerima wards, I often visit both of these parks, confident that there is ample physical distancing, even as I encounter other passerby. These places offer not only a place to exercise, but the peace of mind to consider things beyond the day-to-day affairs of city life.
You might not think of Tokyo as a city of green, but if you walk around, you may see a different side to it.