Calling all extreme sports lovers!! Now's your chance to experience thrilling extreme sports through these exciting 360°VR videos! Cycling, rafting and paragliding! For experienced enthusiasts, this is a new way to try it out. For the beginner you can do these safely from the comfort of your own home! Come visit the CHUGOKU+SHIKOKU x TOKYO website and experience these and more interactive videos!
https://www.chushikokuandtokyo.org/virtualtour/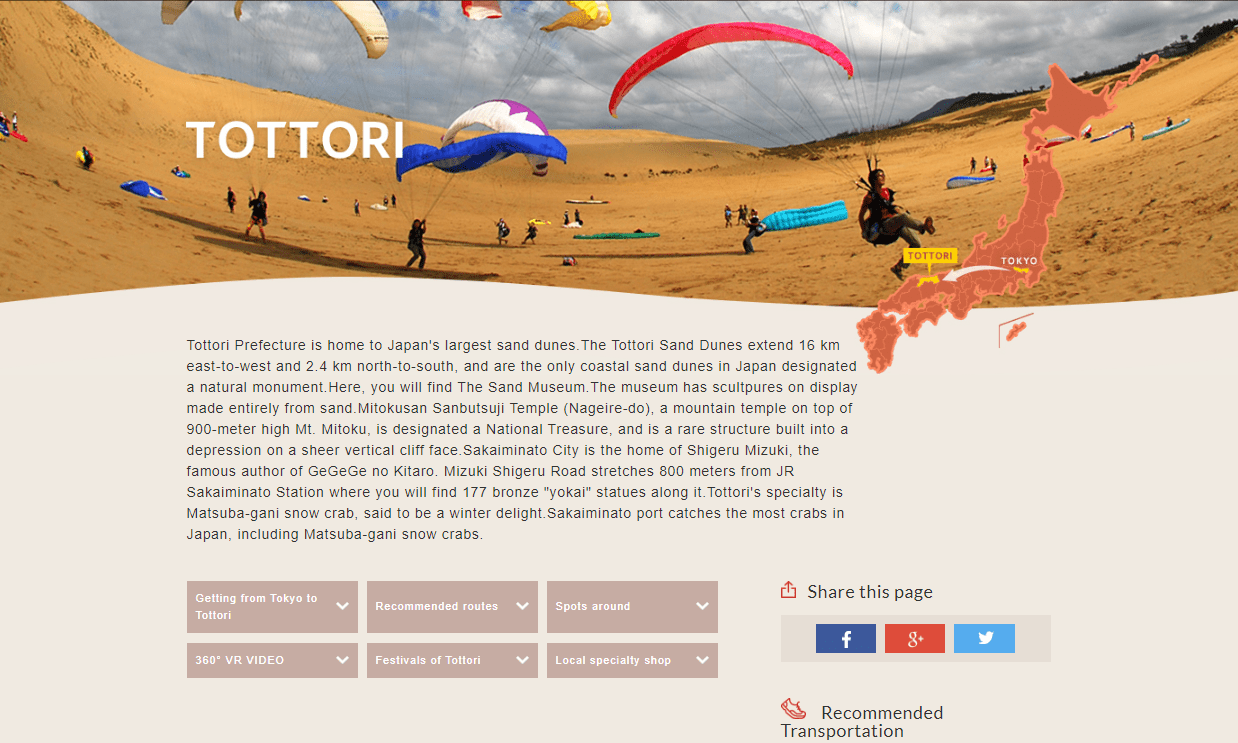 We've gathered all the videos from each prefecture and listed them on one page for your entertainment and enjoyment. Each video showcases similar activities in Tokyo, but we're going to focus on CHUGOKU & SHIKOKU! Here are some of the highlights:
You'll enjoy the virtual rides on roller coasters and flying swings at Tokyo amusement parks, but come with us to Tottori and fly higher! You're sure to feel the excitement as you soar through air, paragliding over the Tottori Sand Dunes! This is a thrill that you can experience nowhere else! And follow along as we hike along the cliffs in the mountains. The view from Mitokusan Sanbutuji Temple at the top of the mountain is magnificent!
Hitch a ride with us as we take a boat ride around Matsue Castle in Shimane. You're sure to enjoy the awe-inspiring architecture of the long, ancient castle walls, and the great view from the top.
Then we'll go underwater as we go diving around the Oki Islands. We'll head out over a beautiful arch bridge, take a boat over the waters and then go diving with the sealife for a truly immersive and SUBmersive experience!
Cycle across bridges extending over several islands as you enjoy beautiful sites and amazing sunsets in Ehime Prefecture! Take on the best rapids in Japan in the Yoshino River in Tokushima Prefecture! Come try the famous Awa Odori dance as you get right in the middle and feel the excitement of the festivals – also in Tokushima! Try out the traditional method of making udon noodles while in Kagawa! It's almost like Dance Dance Revolution! Go "glamping" and enjoy amazing ocean views while bbq-ing in the day, then sit around the campfire and play with fireworks at night in Kochi Prefecture!
There are so many more exciting videos to enjoy. Gourmet, culture, nature walks, scenic drives and more! The entire staff of Japan Sports Journey hopes you will enjoy this interactive website and the amazing view available here!