Like many sports fans around the world, we here at Japan Sports Journey want to get out and see the world! It looks like things are easing up a bit, but until you can actually go anywhere, we suggest you check out the awesome 360゜VR tours of exciting places in Tokyo and the Hokuriku area of Japan.
https://www.hokurikuandtokyo.org/virtualtour/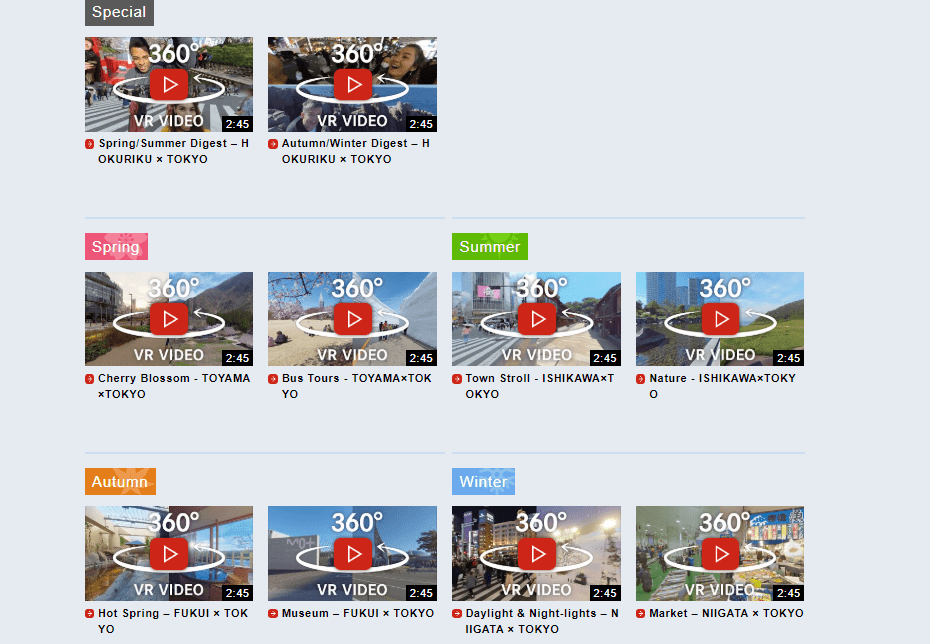 Here, you can enjoy the wondrous beauty of Japan's cherry blossoms with a personal tour guide! The blossoms are lit up at night for a magical experience as you turn the camera on the video to see the blossoms surrounding you. Vitrually enjoy the blossoms while picnicking, rowing a boat or via open-roof bus tour!
See how visitors enjoy wearing a kimono in the summer as they sip on tapioca tea, stroll through Shibuya, or enjoy shaved ice while dancing at a "bon" festival right in the downtown area! Feel like a part of history as you imagine yourself wearing a kimono in the beautiful, historical neighborhoods in Kanazawa, or dining on delicious food at luxurious hotels.
The long beaches of Ishikawa Prefecture stretch for miles with caves of crystal clear water, and amazing views of thousands of rice fields stretching out in a cascade, down to the ocean.
Autumn is time to enjoy the colorful leaves at Meiji Jingu Gaien and the baths at Spa LaQua, right in Tokyo! Follow along as we head to Fukui Prefecture to see the cliffs of Tojinbo, one of Japan's powerful scenic spots and natural monuments, where surging waves from the Sea of Japan crash against the cliffs. Eiheiji temple appears as a fairytale land with ancient trees surrounding the more than 700 year-old temple. Luxurious food such as crab, as well as hot springs await the lucky guide in the video at Awara Hot Springs.
For the art lover, the Museum of Contemporary Art Tokyo is set in a beautiful garden, perfect for walk before or after the museum. And get a thrill as we take you to Katsuyama Dino Park in Fukui, with animatronic dinosaurs all over the forest, and on an immersive dino tour at the Fukui Prefectural Dinosaur Museum.
Winter brings excitement at the Kabukiza Theatre, a symbol of Ginza, and dedicated to the traditional Japanese performing art of kabuki. Shopping in Hibiya at upscale shops and restaurants is the perfect way to round out a visit to Ginza.
A quick ride on the bullet train takes us to Naeba Ski Resort in Niigata for great night skiing, where we can enjoy the magical feeling of ripping it up under the night lights!
All of these exciting adventures are waiting for you in immersive 360゜ video tours!
We here at Japan Sports Journey hope you will enjoy them ! Stay safe and stay sporty!!