Travel just a short way south of Tokyo, and you'll find Japan's second most populated city—Yokohama. Long known as a port town, it now offers the perfect blend of tradition and modern convenience. Andy and Émile came through Yokohama on their Japan Sports Journey through Japan to visit a museum dedicated to one of the country's best-known foods, take in some of the city's sites, and sample the nightlife.

To get to Yokohama, the pair decided to travel in luxury on Japan's high-tech bullet train. It was a welcome change after airplanes and buses! Called the Shinkansen in Japanese, the bullet train is a marvel of modern transportation. It quietly glides over its tracks, and can reach a speed of about 300 kilometers per hour. As Andy and Émile left Tokyo Station en route to Shin-Yokohama Station, Andy said it was his first time to ride. He couldn't believe the entire trip took only 18 minutes. Before they had really settled down, they were already in Yokohama (You can understand how fast it is, considering that it takes at least 45 minutes by taxi to get to Shin-Yokohama Station from Tokyo Station)!

The Shin-Yokohama Ramen Museum is a large food court themed to look like a street in the 1950s, jam-packed with ramen shops. Visitors not only learn the history of ramen there, but they get to eat it too. Ramen from every region of Japan is featured. Émile said he was surprised that so many different flavors existed—soy sauce, miso, salt, pork, chicken—and he was amazed by the sheer variety of toppings. There are even different types of noodles, and you can try each one to discover your favorite.

After thinking long and hard, the pair settled on ramen from Kumamoto. The ramen received high praise from Émile. "The taste is good and the presentation is second to none!". When you see it coming, you say 'bon appétit!'" Andy said he wasn't very hungry at first, but once he smelled it, he had to eat it!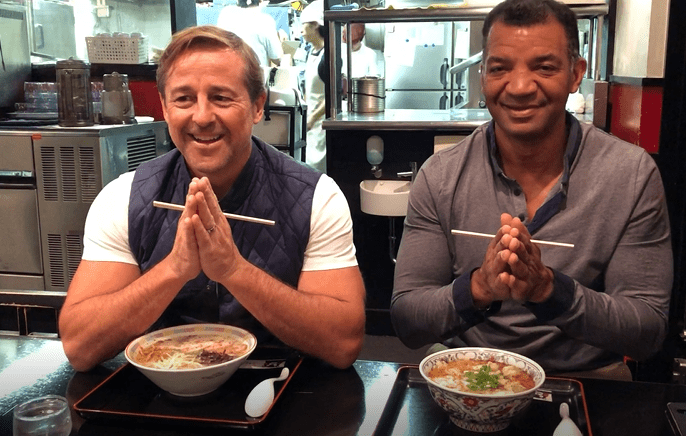 After stuffing themselves with noodles, Andy and Émile took a stroll through Yamashita Park. It stretches across Yokohama's waterfront and offers visitors beautiful views of the bay and passing ocean liners. For an even closer look, the guys purchased tickets for the Sea Bass—one of Yokohama's ocean buses. The passenger ship gives visitors a unique way to travel from Yokohama Station and see some of the bay's most popular tourist spots. One of them is Minato Mirai, a seaside area that includes the Yokohama Cosmo World, the Landmark Tower, and a number of shopping malls. The guys took a ride on the Sea Bass to visit Yokohama Red Brick Warehouse—a historical harbor building that now serves as a popular mall and event venue.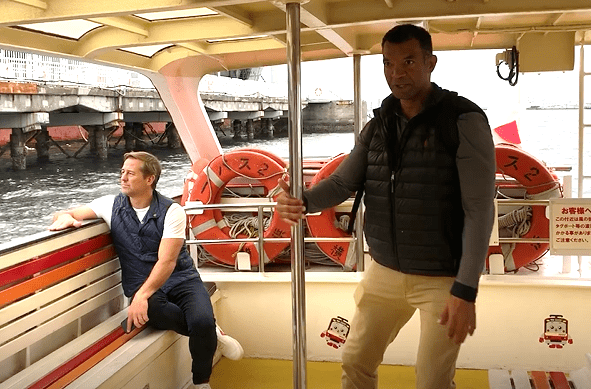 After a bit of shopping and sightseeing, the group visited Noge, Yokohama's famous nightlife district, for a quick nightcap. The riverside hub hasn't changed much over the last 50 years. There are no skyscrapers or bright lights, just narrow streets and tiny bars and izakayas filled with friends telling stories and sharing drinks—the perfect place to end the journey in Yokohama.