Osaka and Kobe, Japan's third- and seventh largest cities, respectively, are part of the Keihanshin region—which also includes Kyoto. The two cities offer a popular and easily doable three- to four-day itinerary for tourists. Andy hit both of them for the kind of food, culture, and fun you can only have in Kobe and Osaka. First stop? Kobe's very own Chinatown.

Chinatown and a Sake Museum
Kobe's Nankinmachi is one of the city's major tourist attractions—and for a good reason! The area is home to more than 100 Chinese restaurants, stores, and even a temple dedicated to Guan Yu—a major figure of China's Three Kingdom's Period. Three impressive archways mark the east, west, and south entrances to the neighborhood, while guardian lions watch over its north. A pavilion featuring the 12 signs of the Chinese zodiac highlights the main square. Posing for a picture, Andy said he was born under the sign of the tiger.

Next was a visit to Kobe's sake district—the largest in Hyogo Prefecture—to see the historic Sawanotsuru Museum. The Sawanotsuru has been brewing sake for more than 300 years, and their museum shares insights about the entire brewing process. But no visit to a sake museum is complete without a tasting, and Andy found the umeshu to be his favorite. It's made from shochu (distilled liquor), plums, and sugar. He liked it so much that he ordered it whenever he had the chance for the rest of his trip!

Later in the day, the weather turned for the worse—but that just meant everyone got to relax at an onsen earlier than expected.

Hot Springs, Hiking, Kobe Beef
Arima Onsen is—you guessed it—an onsen town located in the city limits of Kobe. Its mountain setting is packed with natural hot springs and ryokan (traditional Japanese inns). Despite about 1,000-year history, the small town is still considered a hidden treasure. There are two kinds of springs you can enjoy there. Kinsen, or gold spring, is enriched with iron and salt and has a yellow hue, while ginsen—or silver spring—contains radium and carbonate that the locals say cures muscle aches. Andy said it was the perfect way to rest after all the walking he had been doing over the past few days.

Refreshed after soaking in the onsen and a good night's sleep, Andy was ready to take on Mount Rokko, a famous retreat for hikers and nature lovers. The views from the peak give a rewarding panoramic view of the surrounding area. Andy said it was simply beautiful. The entire five-hour journey required crossing over rocky terrain, murky swamps, and steep slopes, but the experience was worth it. Of course, afterwards Andy was ready for another dip in one of Arima Onsen's soothing hot springs.

For his last night in Kobe, Andy was treated to world-famous Kobe beef at a teppanyaki restaurant, where the chef cooks your meal right in front of you on an iron griddle. During his meal, Andy was able to talk with the chef, learning about the restaurant's history and the chef's training, while looking out at Kobe's night skyline from the restaurant's windows. He then called it an early night. After all, the trip wasn't over yet. Osaka was waiting!

Feasting in Osaka
In the morning, Andy visited the Umeda Sky Building—a landmark of Osaka. From the observation deck, he could see the Rokko mountain range and joked that he was still feeling a bit sore from yesterday. It was time to reenergize with one of Osaka's most famous delicacies.

Takoyaki is a ball-shaped piece of dough with a piece of octopus inside; it is topped with bonito flakes, mayonnaise, a sweet brown sauce, and green onions. While you can find it anywhere in Japan, it was invented in Osaka. The locals put a lot of love and care into the dish, and at the takoyaki restaurant Takonotetsu, you can have the experience of making this dish yourself. Andy was given a crash course on how to cook the perfect takoyaki. He enjoyed it so much he said he might have to take his own takoyaki grill back to England.

Andy took a stroll through Kuromon Market. It's known as "Osaka's Kitchen" because everyone—from grandmas to professional chefs—buys their supplies there. The rain was pouring, so the day ended with a trip to the local pub for a few drinks and kushiage—Osaka-style deep-fried meat, veggies, and cheese on skewers.

City with Many Sides
When morning came, Andy started off the day with a visit to Nakanoshima Park. Nestled between the Dojima and Tosabori rivers, it is Osaka's first public park. It also has an impressive rose garden that features some 4,000 roses. Andy took a picture of a particularly beautiful red rose to show his support for the English rugby team.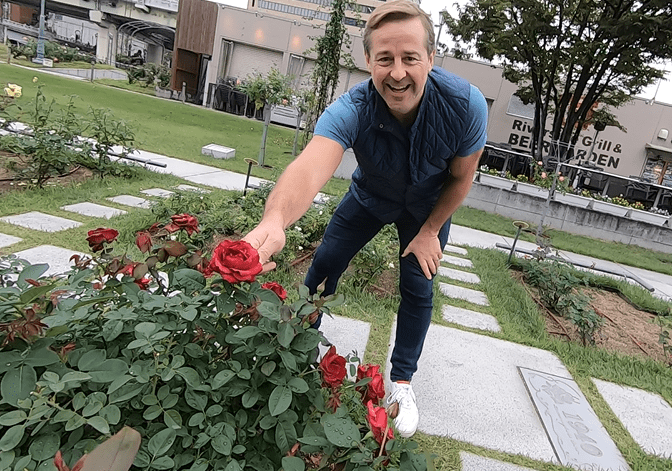 He then toured Osaka Castle, one of the most historic and important buildings in Japan. The castle has stood as an icon for more than 400 years. For Andy, the view from the castle was particularly impressive, as the surrounding foliage had begun to change to its autumn colors. Helmets and armor from the samurai that once manned the castle were on display, and Andy tried on the helmet of the daimyo (ruler) himself—Toyotomi Hideyoshi. He was surprised by the weight of the great ruler's helmet.
Andy then paid a visit to Taikoen Yodogawa-tei, a garden and restaurant that is more than 100 years old. Its lush greenery and peaceful atmosphere were a complete change of pace from Osaka's busy streets. It features a beautiful landscape design, serene pond, and stunning architecture that can be enjoyed all year round. Andy remarked that it was exactly what he needed after such a long and exciting tour.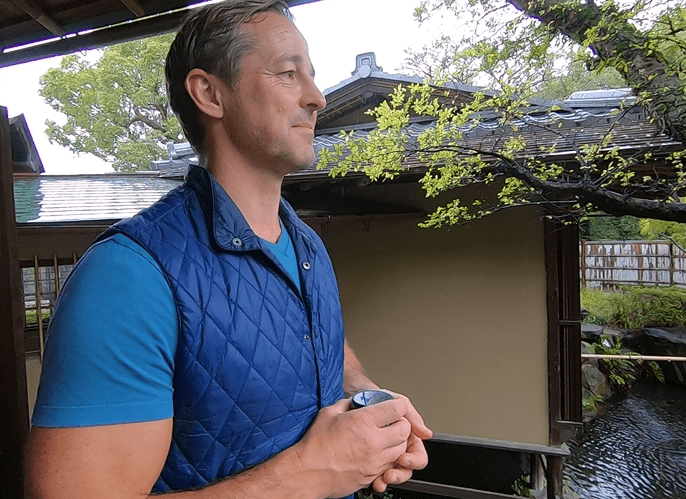 Next was a change of pace—spending time with students from a local high school known for its rugby team. The kids were thrilled to meet Andy, and although the weather was rough, they were still able to play a bit. At the end of the day, Andy gave the students some words of encouragement. He told them there is always room for improvement, but more importantly, win or lose, they should always enjoy the game.
The trip was coming to an end, but there was still time for one more delicious meal. The Michelin three-starred restaurant Hajime boasts a menu unlike anything else you will find in Japan. Its avant-garde course menu, titled "Dialogue with the Earth 2019," features culinary delights that represent different aspects of nature such as clouds and earth. Andy described the meal as "absolute magic" and said it was one of the best food experiences of his entire life.
Andy thought that his trip through Kobe and Osaka was unforgettable. He had climbed tall mountains, sported the armor of a Japanese daimyo, and spent the night in a hidden valley surrounded by natural hot springs—all in just a few days. It just goes to show that you can find a wealth of things to do in Kobe and Osaka. What will you discover on your trip?