As the nation's capital, it should come as no surprise that Tokyo offers a wealth of activities to be enjoyed, and our three rugby legends made the most of their time in the city.

Chofu
First, we caught up with Justin, who was visiting Tokyo Tourist Information Counters in Chofu , where he chatted and took pictures with rugby fans and tried his hand at a variety of activities. One of them was making paper models of Tokyo Station or Tokyo Tower. Justin decided to tackle a model of Tokyo Station. Making the models takes a lot of skills, and the 2.01m Justin said, "It definitely would help if I had smaller hands!"

He then tried on a colorful costume and had a few pictures of himself taken, which were turned into a GIF animation that he was able to view on his phone. He also visited a virtual reality (VR) station, which offered panoramic views of locations around Tokyo. For his VR journey, he decided to take a spin around the Tama area, and he couldn't believe just how immersive the experience was.

Asakusa
Later, we met up with Émile, who is starting off his morning in the Kappabashi area of Asakusa. The area is known for its kitchen products—including plastic replica food. One of the best-known shops that specializes in this is Ganso Shokuhin Sample-ya. After learning about the history and the detailed process that goes into making replica foods, Émile had the chance to make some of his own. He tried his hand at making some plastic ramen and curry and rice. As he said, "It was so real, it looked good enough to eat."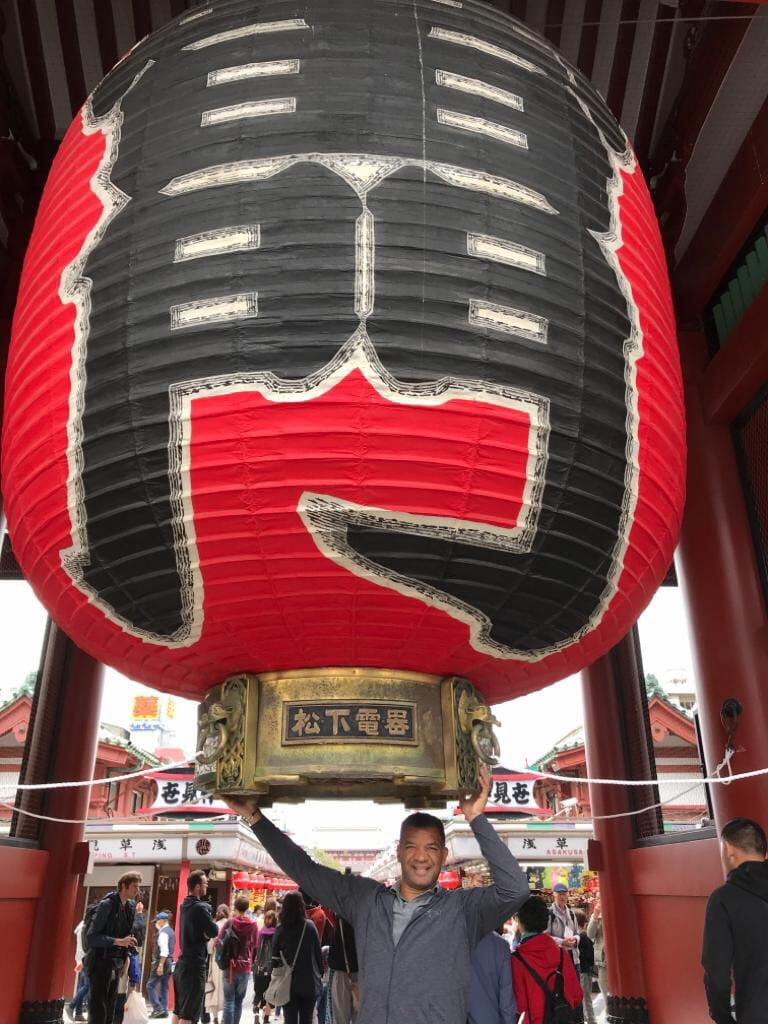 He then moved on to one of Asakusa's most famous destinations: Kaminarimon. As he looked at the impressive red gate and the shopping streets leading towards the Sensoji Temple, he was pleased to see so many young people wearing kimono and enjoying the fine weather.
Émile then went in for a very different experience at Kawarana, where he took on the challenge of smashing ceramic tiles with his bare hands. After a quick introduction and training session, he put on a karate gi and belt and went at it. He was blown away by the experience: "This is so much fun! I thought it would be quite difficult, but it was rather easy and not painful at all."
Moving on to a culinary experience, Émile dropped by at Chagohan Tokyo. First, he learned how dashi (Japanese broth) is made. Then, he had the chance to make his own Osaka-style okonomiyaki (savory Japanese pancake), using a variety of ingredients. He was even able to make his own sauce!
A Slow Boat Ride
The next stop was a sake tasting shop in Ryogoku, which is also known as the home of sumo wrestling. At the shop, Émile met up with Andy Gomarsall MBE, who used to play scrum-half for the England national rugby team, Leeds Carnegie, and Gloucester Rugby. The two former players sampled a few varieties of sake, and they both tried warm sake for the first time.
After this, Émile and Andy boarded a yakatabune (a low, barge-style boat with tatami flooring inside the cabin) where they set off on the Sumida River. Andy and Émile enjoyed a delicious meal of sashimi, tempura, and soba. Émile said, "It was fantastic. All of the different fish and vegetables are wonderfully fresh and delicious." Andy added, "My family loves sashimi, so they would be very jealous of me right now—on a boat, in Tokyo, with tons of sashimi."
The yakatabune made its way out to the Odaiba area and stopped near Rainbow Bridge. They went out on to the deck of the yakatabune, where they took pictures of the stunning skyline.
As the yakatabune headed back to Asakusa, Andy and Émile were in for a special treat. Joining them in the tatami room of the yakatabune was a musician who played the shamisen, a traditional three-stringed instrument. Both of the rugby greats were impressed by the performance.
Andy said, "It was so unique—powerful and impactful. I feel that music always tells a story, and this really expresses Japan in such a beautiful way." Émile added, "It was my first time hearing music like this. You had some songs that were melancholic, and other songs that were very dynamic. It was fantastic!" It was a perfect end to a very busy day.
Dropping in on Ginza
Émile began the next morning by picking up some souvenirs for his friends and family at a shop in Ginza.
Later, he visited the celebrated Japanese lacquerware shop, Yamada Heiando. The shop's customers include the Emperor of Japan and the Imperial Family, and Émile was awestruck by the craftsmanship that was on display there.
Then it was time for a quick lunch at Tempura Abe, a popular tempura restaurant. Émile was surprised by just how popular it was: "It's small and in a basement, but people are lining up just to get in. Wow, this is amazing!" He was even more amazed by the food, and exclaimed, "The food is light and delicious and freshly served straight from the kitchen by the chef! My culinary experience in Japan is never-ending; I continue to be surprised each day."
Calligraphy, Sushi, and Art
We then caught up with Andy, who was at the famous YANESEN Tourist Information Center in Taito Ward. He was there for a lesson in calligraphy. First, he learned the proper way to write strokes in kanji—Japanese characters. Then, after a bit of practice, he started learning how to write the characters for "friend" and "Japan." Andy said, "It was tough—there were so many things to remember, but it was such a wonderful experience." For his part, the calligraphy master was impressed by Andy's patience and dedication to getting his characters right.
Next up was a visit to Sushi Gonpachi, the restaurant made famous by the movie Kill Bill. Andy got to see some of the places in the restaurant where some of the movie's scenes were shot. He also had sushi there, and he said, "It was just extraordinary to witness the chef making the sushi with such attention to detail—it was incredible."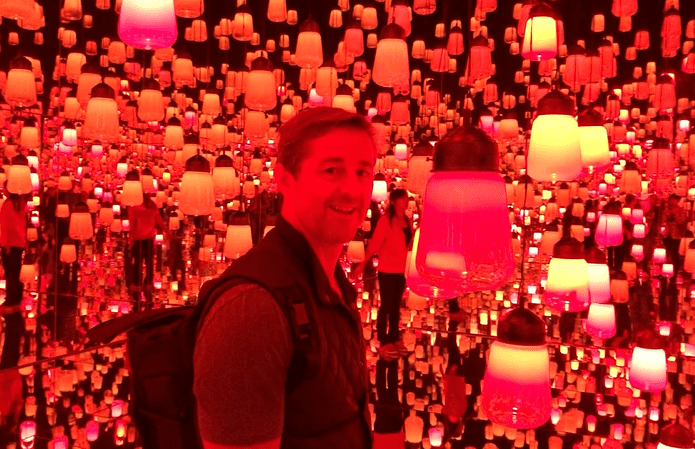 Finally, Andy went to MORI Building DIGITAL ART MUSEUM: teamLab Borderless, which he thought was completely spectacular. "This was simply amazing," he said. "The creativity and conceptualization by the creators are fascinating. You could spend the whole day here and not got bored—the variety of the artwork and how you interact with it is brilliant."