Arriving at Tokyo's Shinagawa Station, Émile was amazed by the sheer number of commuters to be found during rush hour. From Shinagawa, he took the Shinkansen (bullet train) to Shizuoka. It was Émile's first time to take the Shinkansen, and he was thoroughly impressed by the train's combination of comfort and speed.

Storied Castle
In less than an hour, he arrived at Shizuoka Station, where he met Mr. Ohashi, his guide to Sumpu Castle. On the way to the castle, Ohashi explained the history of Shizuoka, which was once called Sumpu during the Warring States Period (1467 –1600 ) and the Edo period (1603–1868). Historically, Shizuoka is well known for its connection to Tokugawa Ieyasu, the founder and first shogun of the Tokugawa shogunate.

Ieyasu spent his youth in Sumpu as a hostage between the ages 8 and 19, and started to build Sumpu Castle, which later served as his retirement home, in 1585 . In Shizuoka City, there are several statues of Ieyasu depicting him during different times in his life—childhood, adulthood, and during his later years. Shizuoka also is famous for mikan (Japanese mandarin oranges), and the mikan tree that Ieyasu himself planted more than 400 years ago still stands next to the statue of him as an older man.

Sumpu Castle was destroyed and rebuilt many times throughout history, and unfortunately none of the original castle buildings remain. The innermost courtyards of the former castle grounds were converted into a public park and a Japanese garden called Momijiyama Garden. The park also offers a clear view of Mt. Fuji.

Once he got to Sumpu Castle, Émile was very curious to learn some Japanese history, see how people lived during the Edo period, and find out about the battle techniques of the samurai. There was a replica of Ieyasu's kabuto (warrior helmet) and sword in an exhibit. Émile found that the sword was quite heavy, but he was shocked to learn that Ieyasu was only 159 cm (5'2") tall. He thought that samurai should be tall and big. He lamented, "I didn't want to know that! They are nano samurai."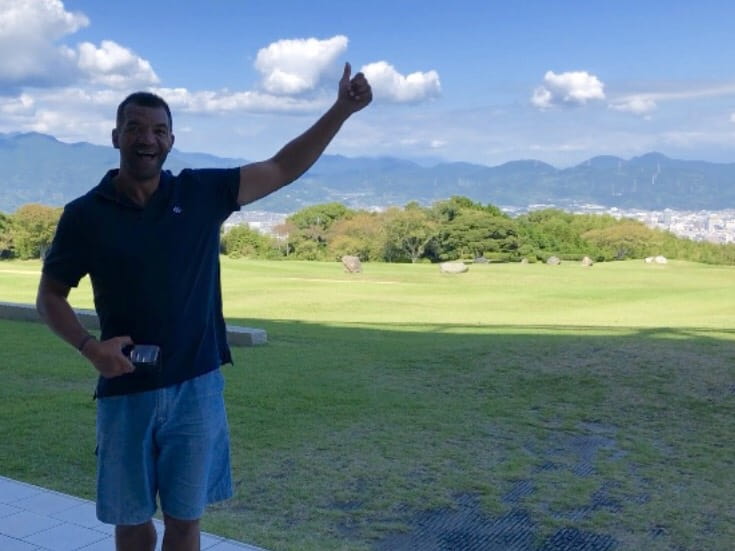 A Scenic Hotel
Afterwards, Émile dropped in at Nippondaira Hotel. Located on the Nihondaira Plateau, the hotel offers a spectacular view of Mt. Fuji and the natural surroundings of the plateau. Émile was very impressed with the architecture, and at the hotel's restaurant he enjoyed fine cuisine prepared with local ingredients—seasonal vegetables and fish—and served alongside fresh green tea produced in Shizuoka.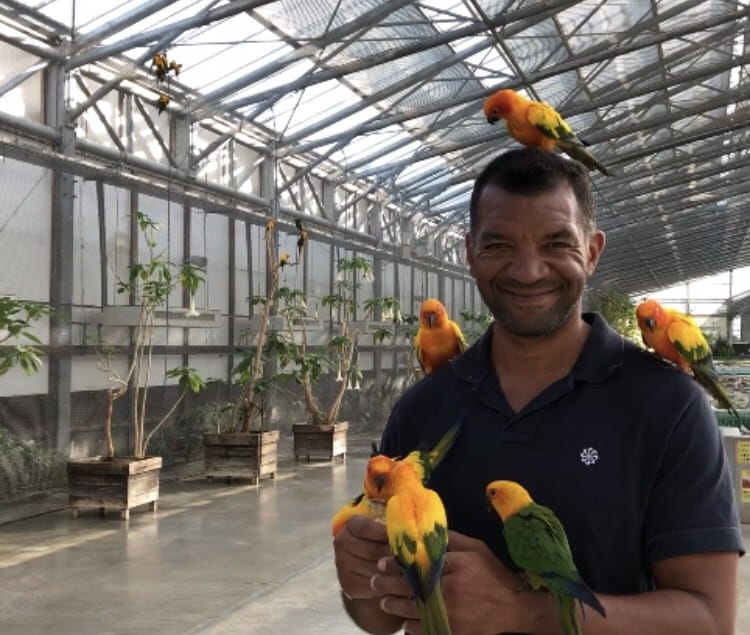 Getting in Touch with Nature
The final destination in Shizuoka was Kakegawa Kachoen, a theme park where you can enjoy seasonal flowers in full bloom and spend time with various kinds of birds. You can take pictures with an owl on your arm, pet a penguin while it's sitting on your lap, watch a bird show, and feed beautiful parrots. As soon as Émile picked up some food, several birds flew and landed on his shoulders, head, and hands to get a snack. Émile enjoyed their company and called out to the birds, "Émile's Restaurant, open 24/7!"
What surprised him the most was the secretary bird named "Kick-kun" (Mr. Kick). The bird, which is originally from Africa, hunts its prey in its natural habitat by stamping with its long feet. Kick-kun showed off his athletic prowess by kicking a rugby ball, which really impressed Émile, who said, "I may borrow him for the game! He'll play well."
On his way back to Tokyo, Émile said that his trip had really been changing his views about Japan. "People tend to think of Japan as being filled with big cities, high tech, and manga culture. But there's so much more to see!"