Next on the Japan Sports Journey was Kyushu—Japan's third-largest island—and this time Émile Ntamack, former Stade Toulousain player and veteran of the French national rugby team, was along for the ride. Kyushu is home to historical shrines and traditional Japanese hot springs, and landscapes that range from vast gorges to stunning coastlines. It was Émile's first time on the island and he was excited to do and see everything Kyushu had to offer.

Fabulous Fukuoka
Émile began his Kyushu experience in Fukuoka, the largest city in Kyushu. The city has a long history of international trade, and today Fukuoka is a global business center that attracts foreigners from all over the world.

On his way to Fukuoka Hakatanomori Stadium to watch the France–USA match, Émile met and mingled with fans in Fukuoka's popular Hakata Ward and ate authentic wagyu (Japanese beef) skewers. A local performer dressed like a ninja gave Émile lessons in throwing shuriken (ninja stars) and wielding a sword.

After France's 33–9 victory, Émile was overjoyed. He moved on to Nakasu Kawabata, a neighborhood brimming with historical significance. Home to Hakata's famous Kushida Shrine, the area is a base for the culture of Hakata. Here, you'll not only find Canal City, a modern entertainment complex, but also the city's oldest shopping district. In Nakasu Kawabata, Émile celebrated at the local yatai (food stall) called KENZO. He ate a full Fukuoka-style feast featuring motsunabe (a hot pot of beef or pork intestines), yaki ramen (fried noodles), and yakitori (grilled chicken skewers).

Cultural Wonders
Following the sporting excitement, Émile was ready to take it slower and learn more about Fukuoka's history and culture. He visited the Munakata Taisha Shrines near the sacred island of Okinoshima—a World Heritage Site and a notable site of worship in Japan. It was a particularly fortunate day for Émile, as the Munakata Shrine Autumn Grand Festival was under way. Émile was lucky enough to see urayasu no mai, a sacred dance that is performed only once per year. He then climbed 100 steps to the island's most holy place and took a quiet moment to pray.

After a quick Japanese-Italian lunch at A.PUTEC FLEGO, Émile headed to Uminonakamichi Seaside Park for a bit of cycling. The park is surrounded by Hakata Bay and seasonal flowers can be found there all year long. There is even a petting zoo there that is home to a family of capybara. Before the day ended, Émile was invited to dinner at Nihon Bare, a local favorite. Like Émile, the owner is a former rugby player and current coach, so they had a lot to talk about.

On the next day, the weather was nice enough to visit Ohori Park, with its peaceful trail that runs around a picturesque pond. It's also home to the Fukuoka Art Museum. Émile remarked, "Ohori Park is so nice and relaxing, and the pond is beautiful—it's a perfect spot where families can spend a day." Later, Émile visited Kego Shrine and Dazaifu Tenmangu. Kego Shrine is a shrine where local lords used to worship, and has played a part in historical battles. Meanwhile, Dazaifu Tenmangu is one of the most important Tenmangu shrines (shrines dedicated to scholarship) in Japan. Of all the shrines that Émile visited, this one was his favorite.

Shops and stalls lined the roads leading to Dazaifu Tenmangu, and Émile ate manju called umegaemochi — traditional sweets made from wheat dough. He also took an omikuji—a paper fortune that tells you whether your luck is bad or not. Before ending his shrine-hopping trip in Fukuoka, Émile made one last prayer—for France's victory over Tonga—and began the next leg of his trip.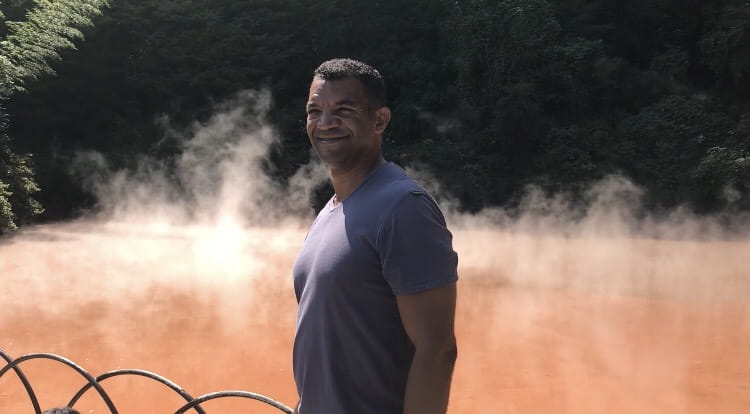 Natural Wonders
Émile was off to the city of Beppu in Oita Prefecture. Located between the sea and the mountains, Beppu is one of Japan's most famous onsen (hot spring) towns. While there are plenty of onsens for bathing, the city also has seven major geothermal hot springs—which the locals refer to as "the seven hells of Beppu." As the name implies, these "hell" hot springs are only for viewing! Émile said he couldn't believe how the hot springs looked and contrasted with their surroundings.
For Émile's final stop in Kyushu, he traveled to Kumamoto Prefecture, which is famous for its centuries-old castle, fresh fruit, and the volcanoes of Aso. It was here that the group took a cycling trip to visit Mt. Komezuka, a young volcano that is only about 3,000 years old.
While looking out at the rolling farm hills and powerful views of the caldera, Émile said, "T his is s uch a thrilling experience! The scenery is beautiful and the surrounding forest is so peaceful and relaxing. I can't believe that about 50,000 people live inside this enormous caldera, coexisting with the volcano over many generations. Although it was a tough ride up, thanks to our electric bikes we could enjoy the ride without too much trouble. I'd definitely recommend it to everyone!"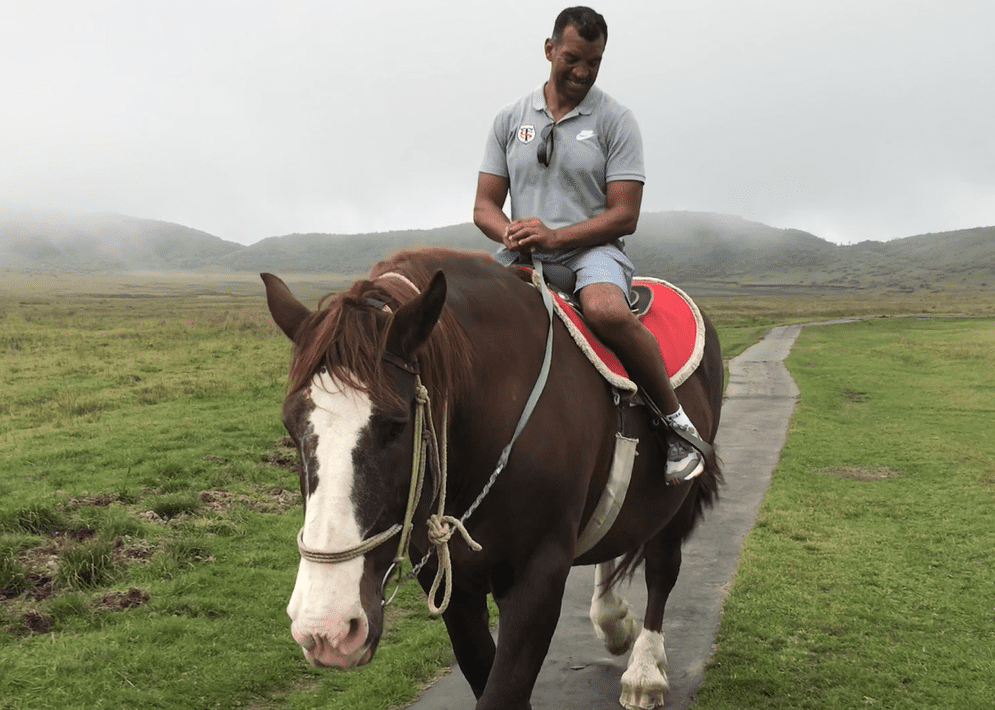 After a quick lunch of Akaushi with rice at a restaurant near the Aso Volcano Museum Center, Émile took a 30-minute hike to the summit of Mt. Kishimadake. At the top, they could see Mt. Takadake, the tallest mountain in the region. After hiking back down the mountain, a surprise was waiting for Émile— a horseback ride at the Aso Kusasenri Riding Club. Émile said he was blown away by the sizes of Kumamoto's horses. Like a true rugby star, he chose the biggest horse—Ai-chan , who weighs in at 900 kilograms.
On his final night in Kyushu, Émile enjoyed local sake and kaiseki (a course meal), which included sashimi, local steamed vegetables, and grilled Kumamoto beef. Émile was delighted with every new dish. "The food I'm having simply gets better and better," he said. "There are so many varieties and so many flavors: the food is delicious and goes well with the sake the manager recommended!" Finally, after such a long and exciting day, Émile enjoyed a foot and body massage at the hotel before retiring to bed.
That's it for Émile's journey in Kyushu—an island filled with culture, nature, and adventure. Follow them next time as their journey continues in Nagoya.