Justin's Japan Sports Journey took him away from the city side in Tokyo, but this time he wasn't traveling alone. Former Wallabies Mark Gerrard (fullback, center, wing, flyhalf), scrum-halves Sam Cordingley and Sam Payne, and general manager Lochie Lawrence joined him on his adventure.

Stepping into the sumo ring
In Mitaka city, the lucky guys experienced one of Japan's oldest sports: sumo. They suited up in traditional mawashi and were given authentic training by former wrestlers at the RAIEN Sumo Experience, which offers foreign visitors and residents a rare chance to enter the sacred dohyo (sumo ring) usually reserved only for practitioners of the ancient ritual. After a crash course in the basics, the crew put on a demonstration.

They wondered if rugby players could benefit from this physically demanding sport. "This would be good training for some of the positions like the front-rowers," Sam said while catching his breath. Likewise, Mark and Lochie thought that the sumo experience wasn't easy, but it was a lot of fun. "It's absolutely something you have to do if you visit Japan," they said.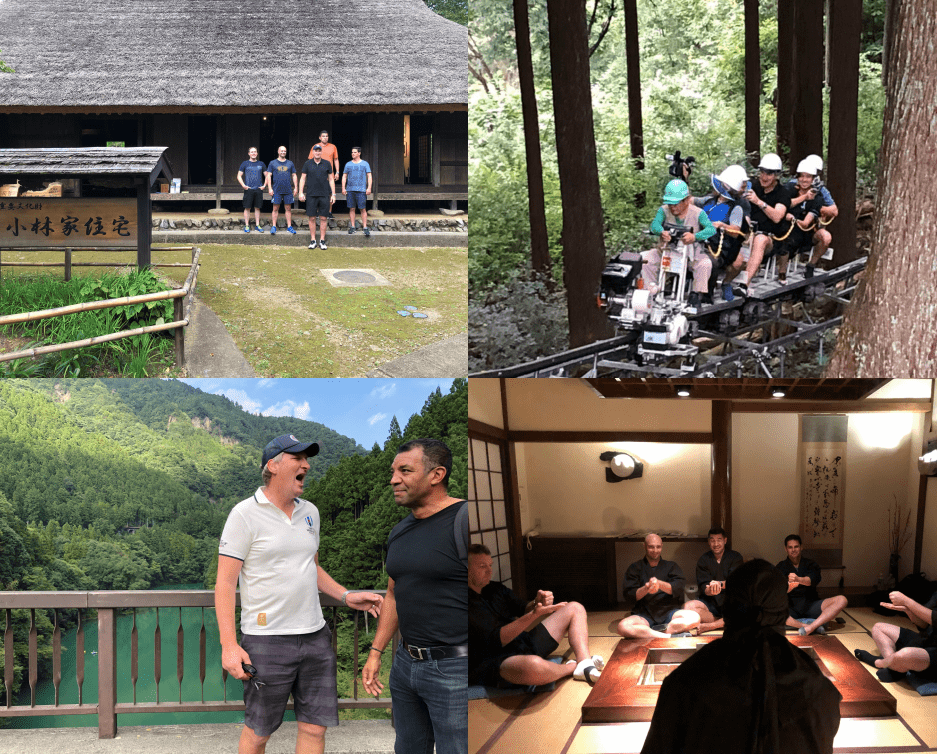 On the Trail in Okutama
Venturing further, they were surprised to learn there is a fair share of countryside in the Tokyo Metropolis. The town of Okutama is located about two hours from Shinjuku Station and features lush forests, tall mountain peaks, and crystal-clear rivers. Known for its traditional onsen, scenic fishing spots, and natural beauty, Okutama is a popular quick getaway for Tokyoites.
Their first stop was Kobayashi House— a Japanese-style home in the mountains where locals from the Hinohara village produced charcoal and other goods. The residence was a vital checkpoint for weary travelers.
Centuries later, the traditional architecture has stood the test of time and Kobayashi House is a designated Important Cultural Property that overlooks beautiful peaks and is surrounded by flowing streams and rolling hills. It's a historic example of how people lived harmoniously among nature.
Justin said that they felt privileged to see the traditions and history of Japan and that the trek up the mountain was well worth it. "There was an immediate sense of calm and tranquility when we finished," he said. After learning more about the history of Kobayashi House, the guys took a moment to enjoy the view and eat onigiri (rice balls) and karaage (fried chicken).
More details of Kobayashi House:
https://www.gotokyo.org/en/spot/1022/index.html
Tired and still hungry, the group made their way to Kabutoya—a 300-year-old inn next to the Minamiaki River. At the entrance, the staff surprised them by jumping out, dressed as ninja. Justin and the others were taught ninja hand signs—which they joyfully continued to use throughout the rest of their journey in their photos.
After spending a bit of time in the inn's onsen, the crew donned yukata and ate a spread of locally produced delicacies. They stuffed themselves with fresh fish caught from the streams surrounding Hinohara and vegetables grown in the family-run inn's farm. "The fish was so good I practically ate the bones," Mark said.
The feast continued with a barbecue, featuring beef and local chicken. Absolutely stuffed, they ended the night by merrily drinking regional beers and watching Scotland thrash Samoa 34–0 on TV. They all agreed it was a one-of-a-kind experience. "You can't do this anywhere else," Justin said.
More details of Kabutoya:
http://www.kabutoya.net/english/index.html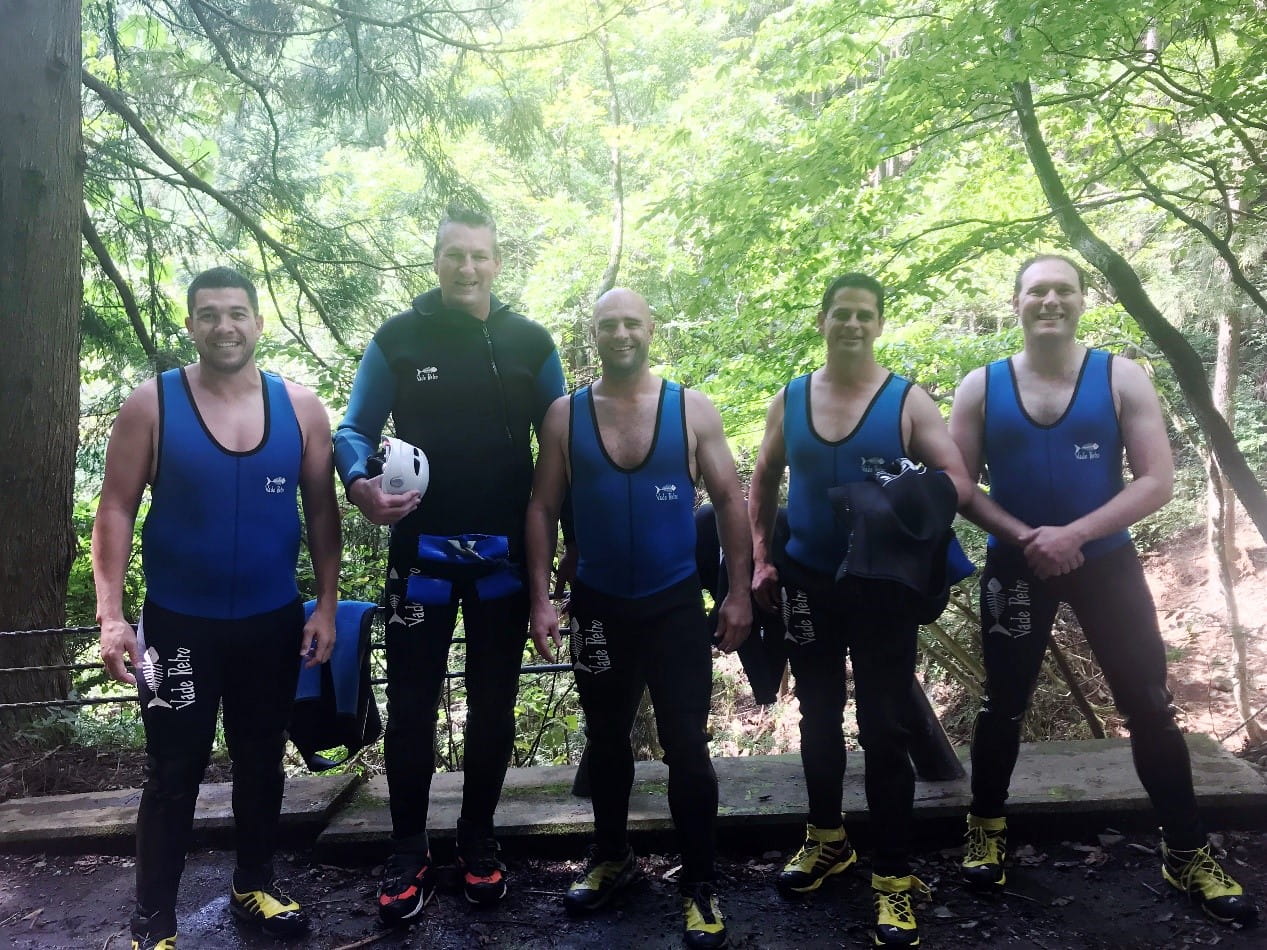 Taking the Plunge
In the morning, the group went for a bit of outdoors fun with Canyons Japan, which leads adventure trips in various locations. The guys met up with their guide, Moana, who showed them the ropes and led them on a canyoning excursion through Okutama's dramatic limestone peaks and rushing waters.
The crystal-clear water was completely refreshing, but the course offered plenty of thrills too. The guys had the option of taking natural slides down into the water, but they opted to take the five-meter plunge instead.
On their way to Okutama's Earth Garden restaurant for steaks and hamburgers, the group met up with former French national team player Émile Ntamack (center, wing, fullback). This was his first trip to Japan, and Émile said he was amazed that such natural beauty could be found so close to urban Tokyo.
For their final stop, they were invited by the local brew factory VERTERE to taste exclusive craft beers. VERTERE cans and bottles its own beers, but they can only be found locally. Beers on tap included a chai tea latte stout and a spicy Belgian wheat. Most of the guys began with the Norway Cream—a smooth and sweet mild ale, but the winner was the chai tea latte stout, according to Sam and Lochie.
Looking back over the past two days, the group said they had been constantly and pleasantly surprised. "We got to experience things regular tourists can't if they just stay in the city," Justin said.
Stay tuned for the next stage of the rugby journey: Kyushu. We'll see you there!