In Japan's beautiful northern prefecture of Hokkaido, former star of the Australian national rugby team and current general manager of the Classic Wallabies, Justin Harrison, spent the weekend exploring the culture, tasting the food, and meeting the locals. Justin was looking forward to his journey. Arriving late in Sapporo, Justin spent his first evening catching up with old teammates—Sterling Mortlock, Lote Tuqiri, and Matt Cockbain—who were visiting Japan for RWC. The vets shared drinks, stories, and opinions on Australia's Saturday game against Fiji at Sapporo Stadium. The next day, Justin visited the rugby Fanzone near Sapporo TV Tower in the popular Odori Park to meet up with hundreds of visiting Australia fans. While at the tower, Justin recalled that he had come to Sapporo a year before to scout the stadium and shared history he had learned. He particularly admired William S. Clark. Clark, an American professor and leader in agricultural education, was invited by the Japanese government to Sapporo to establish the Sapporo Agricultural College—known today as Hokkaido University. Today, Clark is celebrated for modernizing Sapporo, and is familiar to local people. His statue at Sapporo Hitsujigaoka Observation Hill even wore the rugby jersey of the Japanese team on September 19th-20th!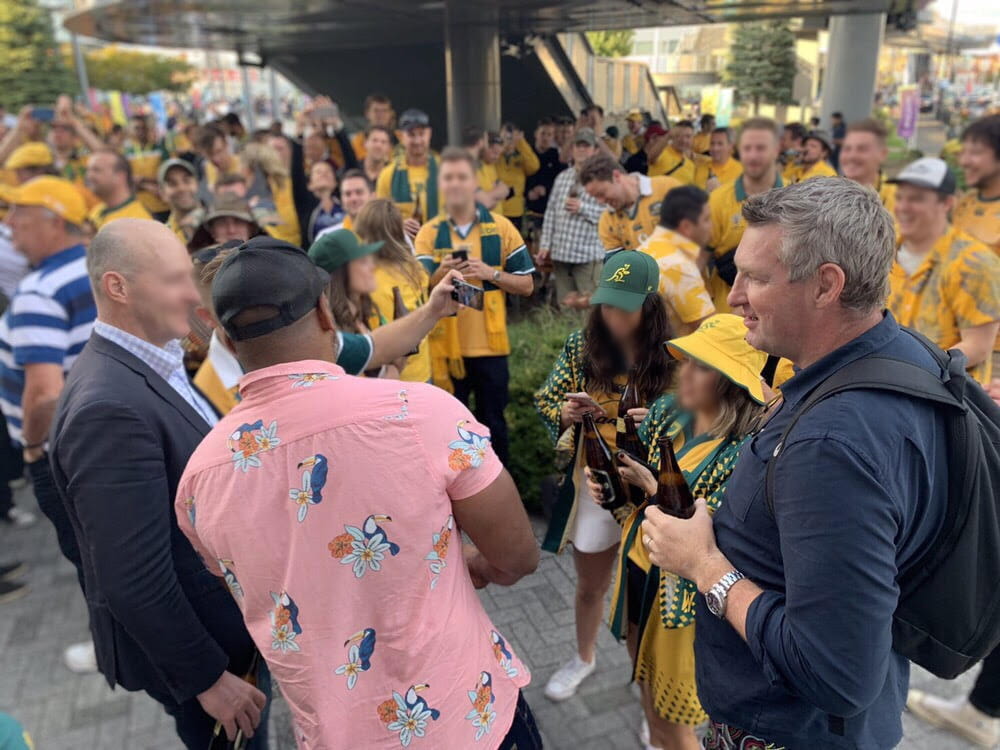 That evening, and to celebrate Australia's 39–21 victory over Fiji, Justin visited the Rugby Bar at a hotel in Sapporo. The bar has installed a big-screen TV so that guests can watch RWC matches, and is serving all drinks—from beer to cocktails—for ¥500 each during the tournament.
Later that evening, they went to Irish pub Brian Brew. Of course, Brian Brew serves drinks, but it's also a popular tourist spot thanks to their fish and chips, grilled steak, and meat pies. Aussie and Japanese fans alike were celebrating Australia's win at the pub and were absolutely thrilled to meet the former players. Justin and Tuqiri took pictures with fans and signed the pub's famous wall of rugby legends before ending the night.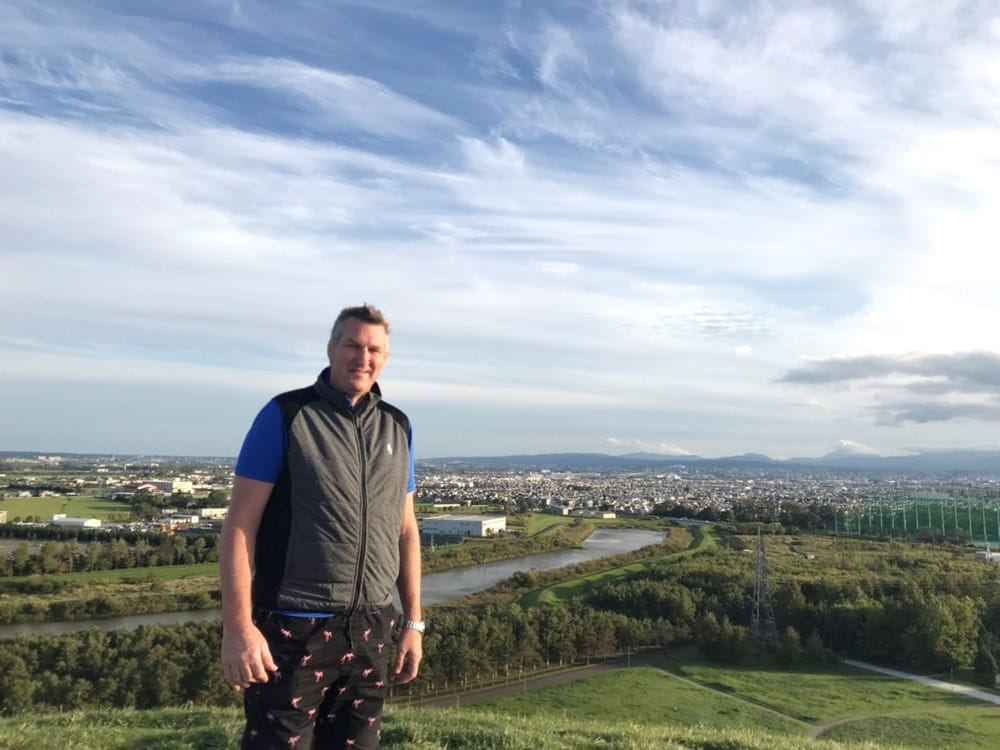 The next day, Justin wanted to try one of Hokkaido's famous dishes: jingisukan, or grilled lamb. It was his first time trying it, and he really loved the taste. Before leaving Sapporo on Sunday to follow the Wallabies for their journey across Japan, Justin headed away for a bit of quiet in the city's award-winning Moerenuma Park. The weather was perfect for viewing the scenery and contemporary architecture, including the glass pyramid, Hidamari. He was amazed by this magnificent spot where art and nature come together.
Justin agreed that this place was perfect for the families to have a picnic.
"There's a lot of kids here now, and Moms and Dads, and everyone has got a smile on their face. They're clearly enjoying the fusion of the outlook and nature, and that's one of the things we know about Japanese culture too. Enjoying what's around you. The surrounding and finding peace and tranquility wherever you are."
That's all for Sapporo. Where will Justin go next?