Once Fierce Rivals, Now Adventure Buddies

Three former rugby players from Australia, the UK, and France who used to compete ruthlessly on the pitch are about to share their unique experiences as they travel to Rugby World Cup 2019 host cities here in Japan.

Here's some introductions
• Justin Harrison is a former lock forward from Australia who has played with the Plus500 Brumbies, the New South Wales Waratahs, Ulster Rugby, and Bath Rugby. He also played for Australia in Rugby World Cup 2003. He is now the general manager for the Classic Wallabies. Active in charity activities, Harrison has visited Kamaishi in Iwate Prefecture and Sapporo in Hokkaido Prefecture to play rugby with children.

• Andy Gomarsall MBE is a former scrum half from the UK. He played for a number of professional teams, including the London Wasps, Gloucester Rugby, and Harlequin Football Club. He played for England when the team won Rugby World Cup 2003 and went to the finals in Rugby World Cup 2007. He was a co-commentator for ITV's coverage of Rugby World Cup 2011.

• Émile Ntamack, who hails from France, played center, wing, and fullback for Stade Toulousain and the French national team; he has won 46 caps. He represented France in Rugby World Cups 1995 and 1999, and coached the French U20s to a championship in 2006. His son, Romain Ntamack, plays fly half for Stade Toulousain and the French national rugby union team.

 
Experience the many regions of Japan!

These rugby legends will be traveling to the host cities including Tokyo, to enjoy various activities while supporting their home teams.
Transportation system is well developed in Japan, so you can easily travel from Tokyo to other cities!

These are just a few of the things that these rugby legends will experience:
• Paying a visit to Japanese traditional fighters: they'll train with Sumo wrestlers and eat traditional Sumo food after their training session.
• Canyoning at Okutama, which is famous for its nature in Tokyo
• Watching and cheering for their favorite teams while mingling and drinking with local sports fans at sports bars.
• Hitting must-see spots in Yokohama, where the final match will take place.
• Enjoying what Hokkaido has to offer: fresh seafood, beer, and more!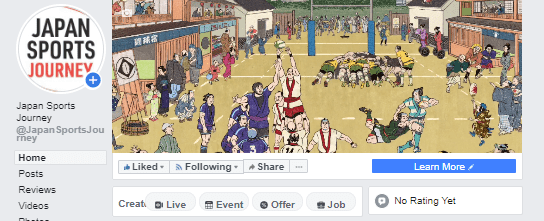 Come on to Japan Sports Journey Facebook!
If you're looking for sports and fun athletic activities in Japan, you should definitely check these three rugby legends! You can follow their adventures during their stay in Japan—where they're going and what they're doing, eating, and trying—through their updates not only on this NEWS page, but also on our official Facebook page: https://www.facebook.com/Japan-Sports-Journey
Join the journey with us!