You can get lost trying to find quality information while planning a trip. When it comes to Tokyo, the GoTokyo.org website ( https://www.gotokyo.org/en/index.html) has got you covered. The site has recently been intuitively redesigned to appeal to visitors. It has been written and edited by native English speakers and translated into 9 languages. The pages are laid out simply without a lot of clutter to distract and confuse the user, and links are large and easy to navigate. Articles are concise and informative and written with the foreign traveler in mind. There are links to helpful apps, a handy search feature, and you can even change the font size and color. Special features include maps and routes provided by Google Maps, a search function for accommodations and user reviews of local attractions through TripAdvisor, and photos provided by Instagram users. Content is divided into 4 main links at the top: New & Now, Area Guides, See & Do. and Plan Your Trip. Below I describe each of these site areas.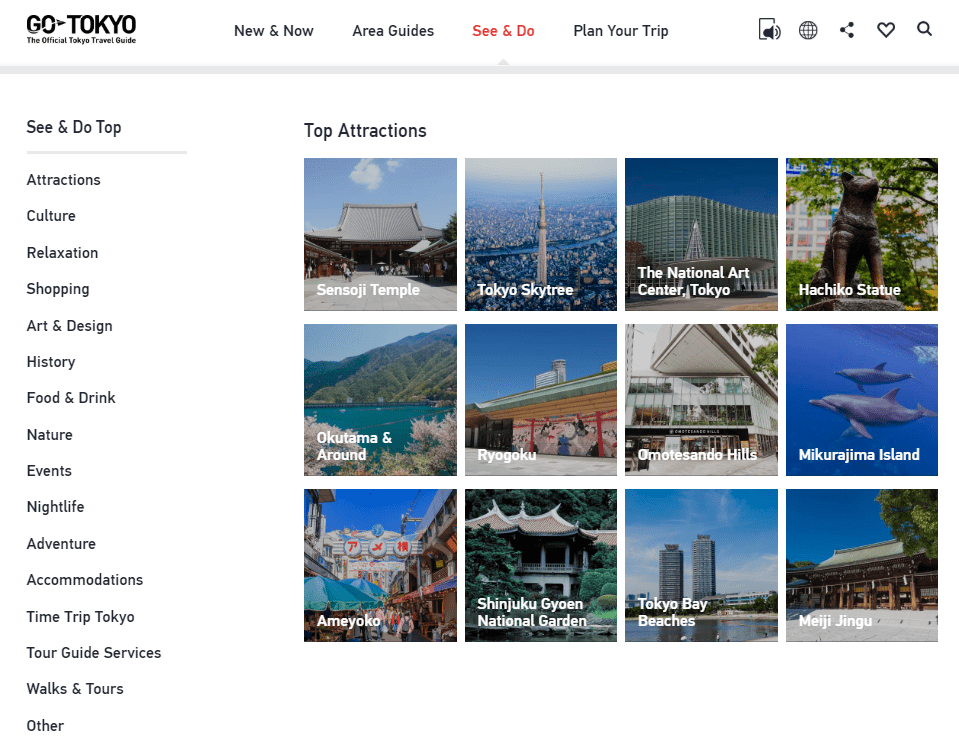 New and Now is a curated guide filled with current and seasonal events, trends and highlights, and suggestions and guides from locals. From traditional to off the beaten path, here you will be able to tap into Tokyo on every level. There are quick links to upcoming, seasonal and popular events, and an Events Calendar. Further down you'll find feature articles on trends, the Best of Tokyo, local's suggestions, and a month by month guide to Tokyo.
Area Guides divides Tokyo intuitively by geographic area and then popular stations in that area are listed. If you click on an area you will get links to local train stations, nearby attractions, and visitor photos. Clicking on a train station will bring you deeper into the essential info on how to get there, what to do, tips, a google map with Nearby Attractions, and a Must See guide.
In See and Do activities can be explored by popularity, suggested, or by individual interest like: Food and Drink, Shopping, Accommodations (where you can book hotels directly through TripAdvisor), Events, and even Time Trip Tokyo which is filled with photos of Tokyo from the past! One interesting section is the Walks and Tours. Here you can find suggested areas to enjoy with a Google Maps walking guide. Also there are visitor photos linked to Instagram accounts, and reviews of attractions from TripAdvisor.
Plan Your Trip is like having a personal travel agent with answers to questions you forgot to ask. At the top are links by interest, like Where to Stay, a few basic travel related links, a link to Suggested Walks and Tours, and a link to some handy PDFs you can download, Further down are most of the logistical sundries you'll need like: visa information, customs and courtesies, banking, useful apps, accessibility, shopping tips, free tour guides and much more.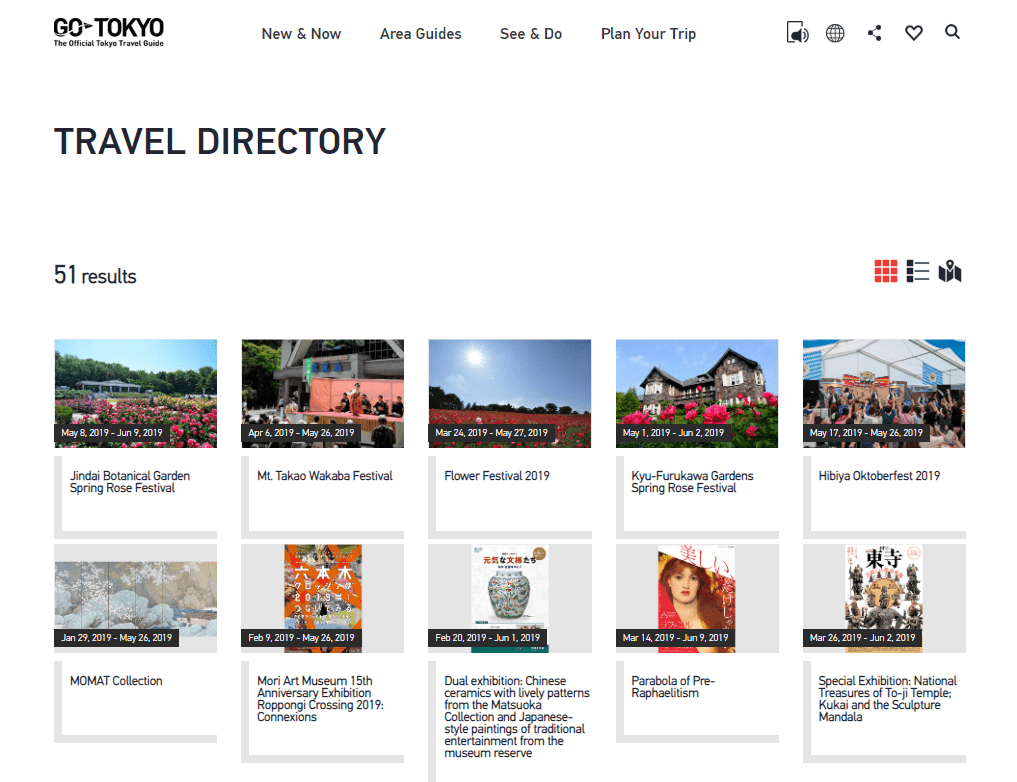 There is so much to see and do in Tokyo. GoTokyo.org is your personal on the go concierge service to navigate this amazing area without feeling overwhelmed. GoTokyo is curated and presented by the Tokyo Metropolitan Government and the Tokyo Convention & Visitors Bureau, bringing you the best up to date information in one location about this amazing area!
Website
https://www.gotokyo.org/en/index.html
Twitter site
https://twitter.com/hashtag/gotokyo?lang=en
A monthly newsletter called Tokyo Now
https://www.gotokyo.org/english/agent/citypromotion/mailnewsletter/