A global leader in the climbing world since its days as a minor sport
Sport Climbing became an official event for the first time at the Tokyo 2020 Olympic Games. Professional free climber Akiyo Noguchi won the bronze medal in that landmark competition. She first began climbing at the age of 11, and has won a total of 21 World Cup competitions. Now retired and committed to popularize this sport, Noguchi, who is known as the "Queen of Japanese Climbing", spoke with us about the appeal of climbing and offered a recommendation for one of the best climbing spots in Tokyo.
No matter your age or body type, everyone takes on the same problems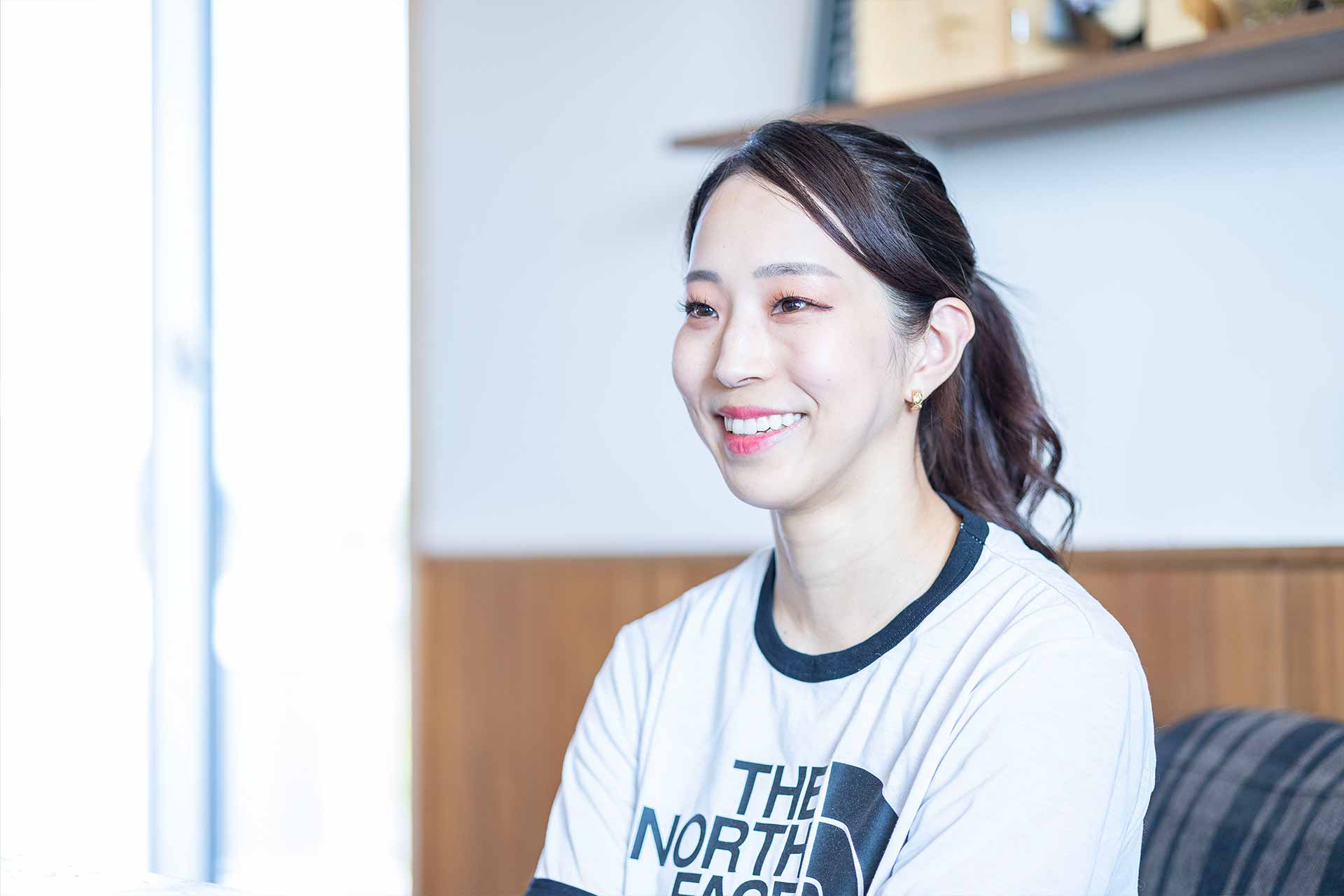 You say you started climbing when you were 11 years old, in the fifth grade of elementary school. What was it that got you interested in climbing?
"My first experience with climbing was on a family trip to Guam, and there was a climbing attraction at a video game arcade, so it tried it out. I put on a helmet and a harness, and climbed a papier-mâché tree with holds on it, grabbing them with my hands and planting my feet on them as I made my way to the top. It was an experience I couldn't forget, so after we went back to Japan, I was so obsessed with it that I had my dad start taking me from our home in Ibaraki to a climbing gym all the way in Kinshicho, Tokyo. Later on, I found out that a gym had opened just a 30-minute drive from home, and that was when I dove head-first into climbing."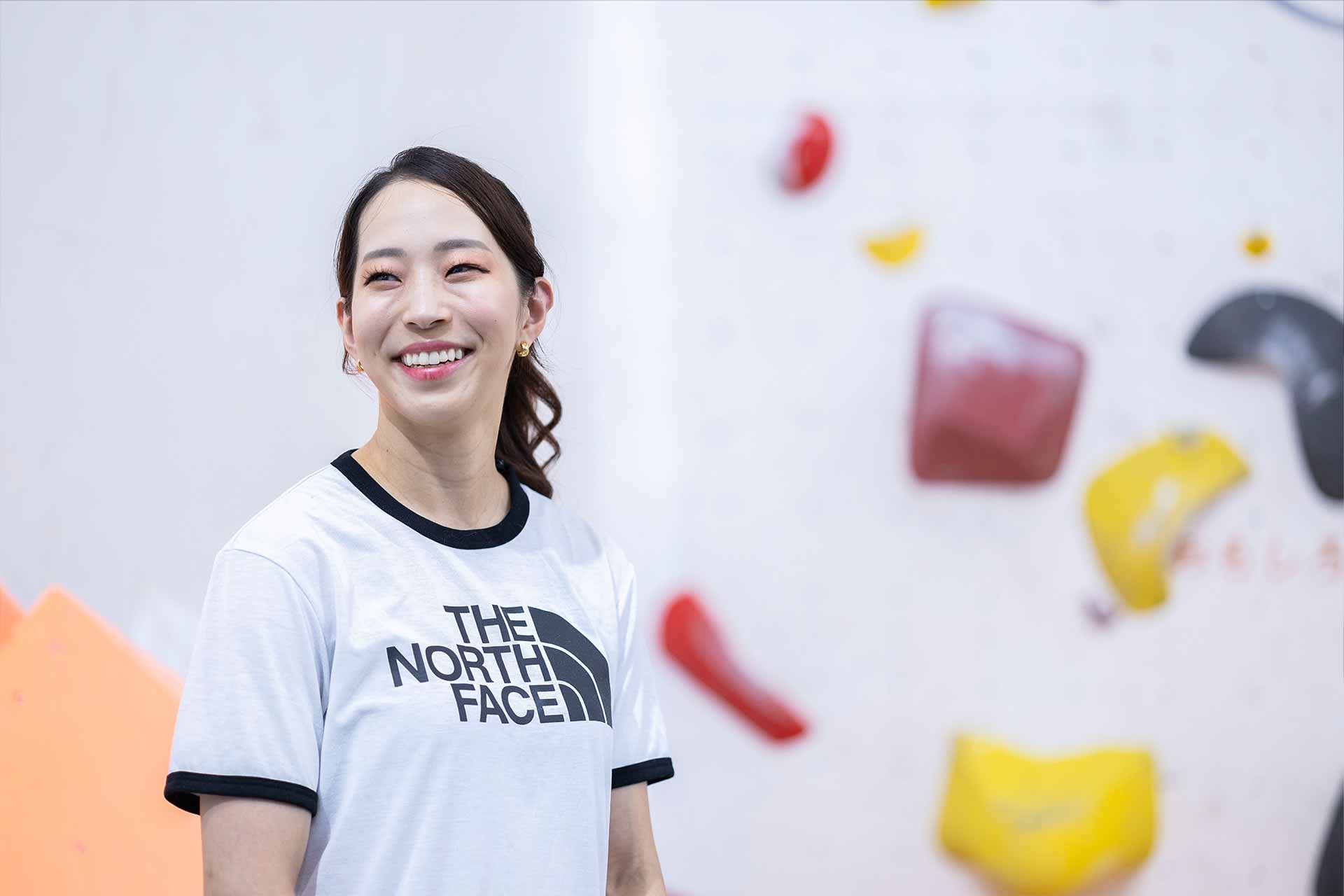 As both a participant and a spectator, what is it that attracts you to climbing competitions?
"Climbing is a sport in which everyone takes on the same problems, no matter their height, size, or age. I think the real appeal and thrill of climbing come from understanding your own body and physical strength, and how to make the most of your own characteristics and strengths to solve a problem. First of all, there is the frustration you feel when your body doesn't move as it should because you're defying gravity and also shifting your center of gravity. But then there's that feeling of accomplishment you get when you're finally able to climb a difficult wall after trying it again and again, and that feeling is the best."
"When you watch a competition, please pay attention to how each competitor approaches a problem in their own individual way. For example, competitors from Europe and North America have a tendency to use the length of their arms and legs, muscular power, and explosive force when they climb, while Asian competitors often use their slender statures and dexterity to their advantage as they make a lot of small turns while climbing. It's especially fun to watch others climb and think about how you'd do it, like, 'If that was me, I'd go from over there,' and also get some hints by seeing how they do it."
Winning the bronze medal in an upset in the last event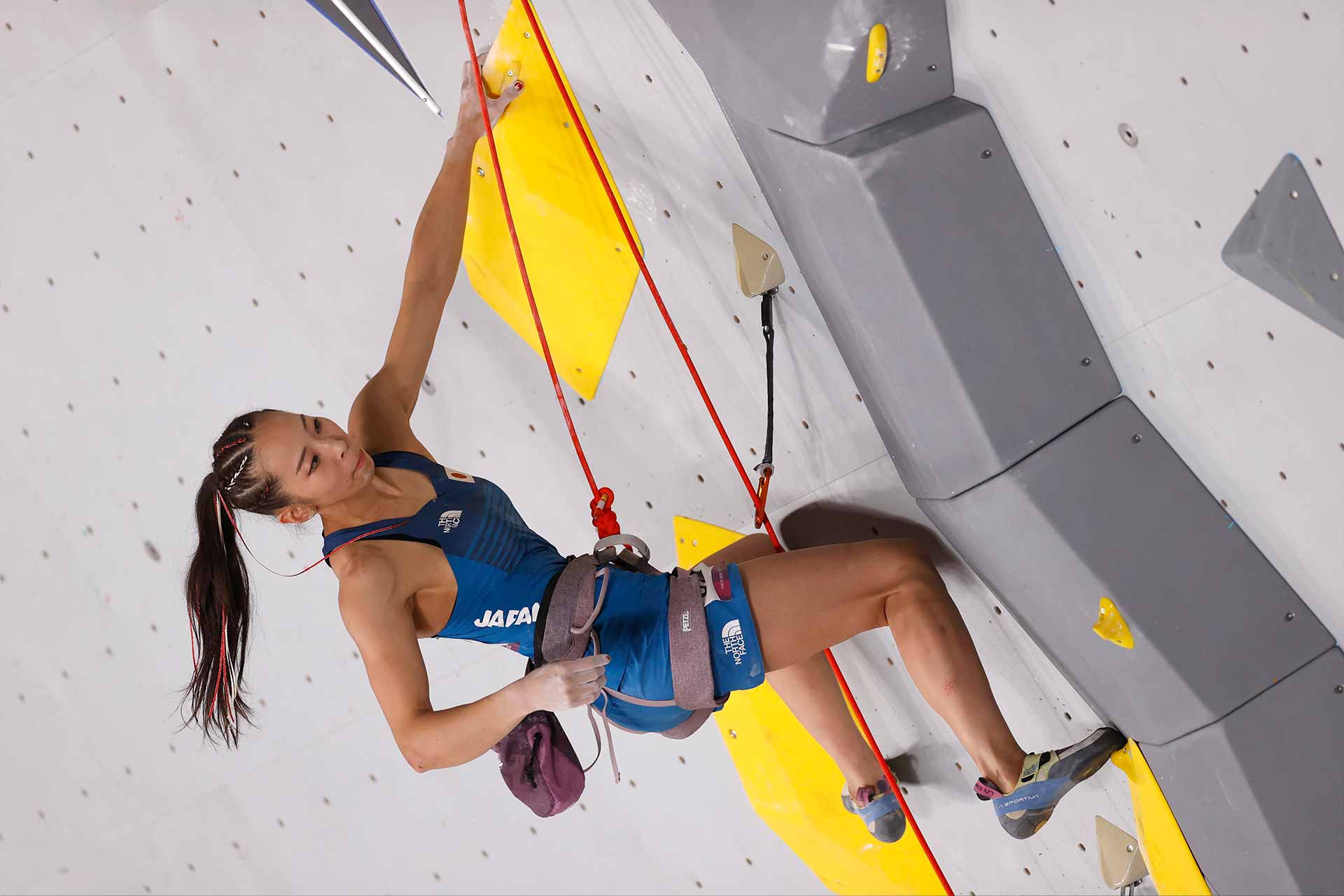 You won the Japan Youth Championship after just one year of experience in climbing. Then in 2008, you were the first Japanese participant to win the Bouldering event at the IFSC Climbing World Cup.
"When I first started climbing, there weren't any Japanese athletes who were continuously active on a global level. It wasn't an Olympic event then, and it wasn't even well known as a competitive sport. There were no coaches and no climbers as role models. While continuing to enjoy climbing as a hobby, I became able to compete in the World Championships, and it was there that I first realized that there were so many women overseas who took climbing seriously as a sport and were working to become the best in the world. That's when my life as an athlete really started."
Thanks to your success, sport climbing has gradually been gaining recognition in Japan, and it was also added as a new event at the Tokyo 2020 Olympic Games.
"The environment around climbing has changed a lot over the past 20 years. There are more competitors, a Japanese national team was formed and staffed with coaches and managers, climbing gyms have popped up all over the place, and it's now grown out of its original status as a minor sport. As for the Olympics, the bidding process began in 2015, the host city was officially decided in 2016, and then the Games that were meant to take place in 2020 were postponed for a year. That makes a total of six years, so I was involved with the Olympics for quite a long time. But when it was over, it felt like it had all happened in an instant."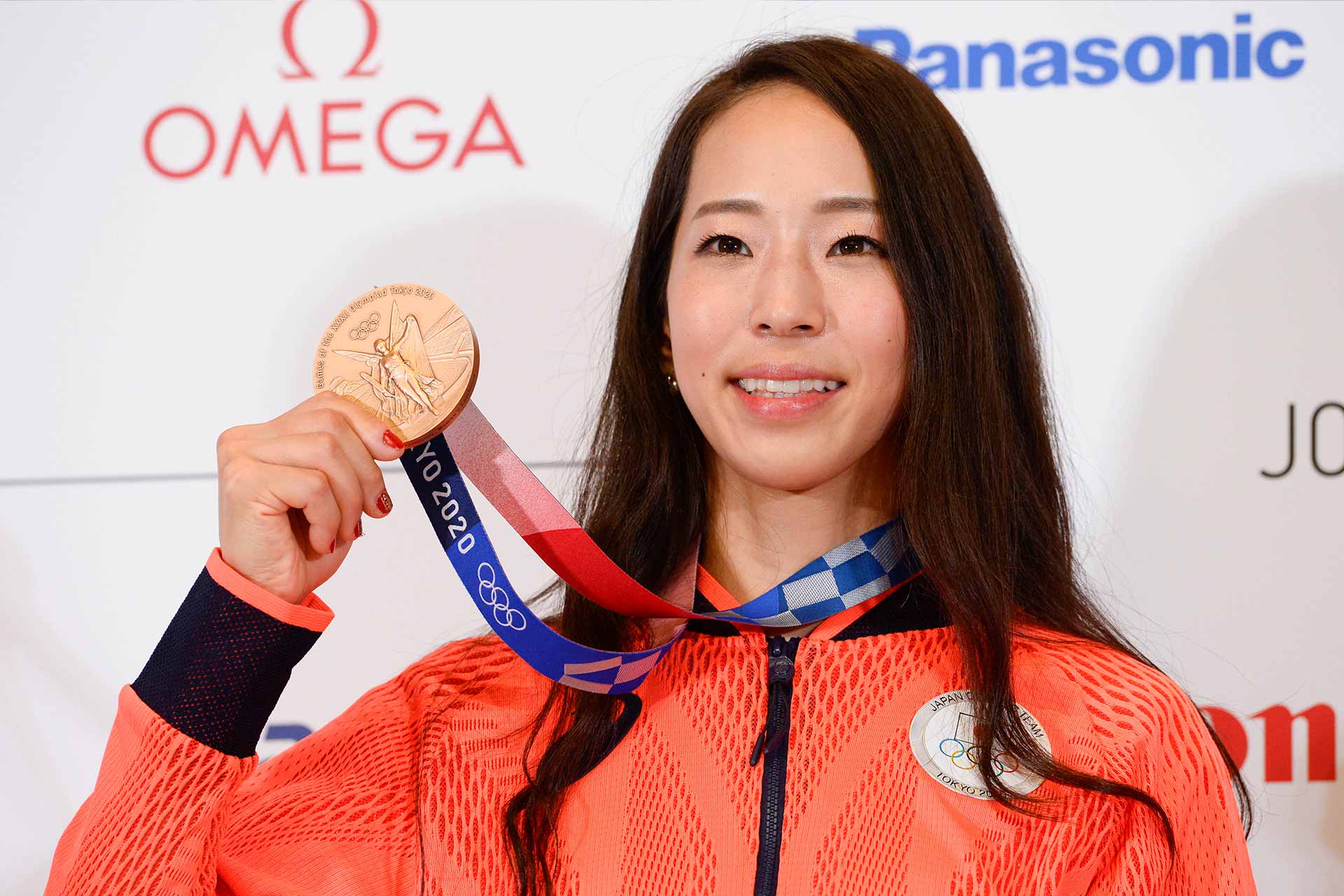 You won the bronze medal at what was a very memorable Tokyo 2020 Olympic Games.
"Of course, it was the gold medal that I was after. In Sport Climbing, there are three events: Speed, where you compete for the fastest time; Bouldering, where you try to clear as many problems as possible; and Lead, where you climb as high as you can. In the Olympics, these are combined into a single event in which the participants do all three. Bouldering is what I'm best at, but in the finals my performance in Bouldering just wasn't any good. After the second event I was in sixth place out of eight people. I was out of medal range and things were looking pretty hopeless. But I had made the decision to retire after these Olympics, so I couldn't just give up then. So, in the last event, which was Lead, I decided to change my way of thinking and just do my best without worrying about rankings or medals, and just complete this last event of my competitive life without any regrets. As a result, I was able to come from behind and win a medal."
How did you feel when you were standing on the podium?
"I competed in my first senior competition at age 16 and kept competing until I was 32 years old. When I thought that my life as a competitor would end here, I felt loneliness, a sense of accomplishment, a feeling of being released from different kinds of pressure… there were a lot of really deep emotions all at once. The feelings I had then are still with me today."
After seeing your performance at the Olympics, more and more people have become interested in climbing and enjoy it as a hobby or sport. Your achievements in that regard were quite immeasurable.
"Thank you very much for saying that. Climbers are not really that big, and my body shape is basically the same as an average Japanese person, so maybe they watch me and think, 'I can do it, too!' And if they're out there with their small frames and competing on a global level, it gives you some hope that you could also try to be the best in the world. Climbing is a sport where you think for yourself, and the more ingenious you are, the better you get at it. This might be why it's relatively easy for the Japanese to embrace this sport, since we tend to take things very seriously."
Mitake Gorge: A recommended spot for rock climbing beginners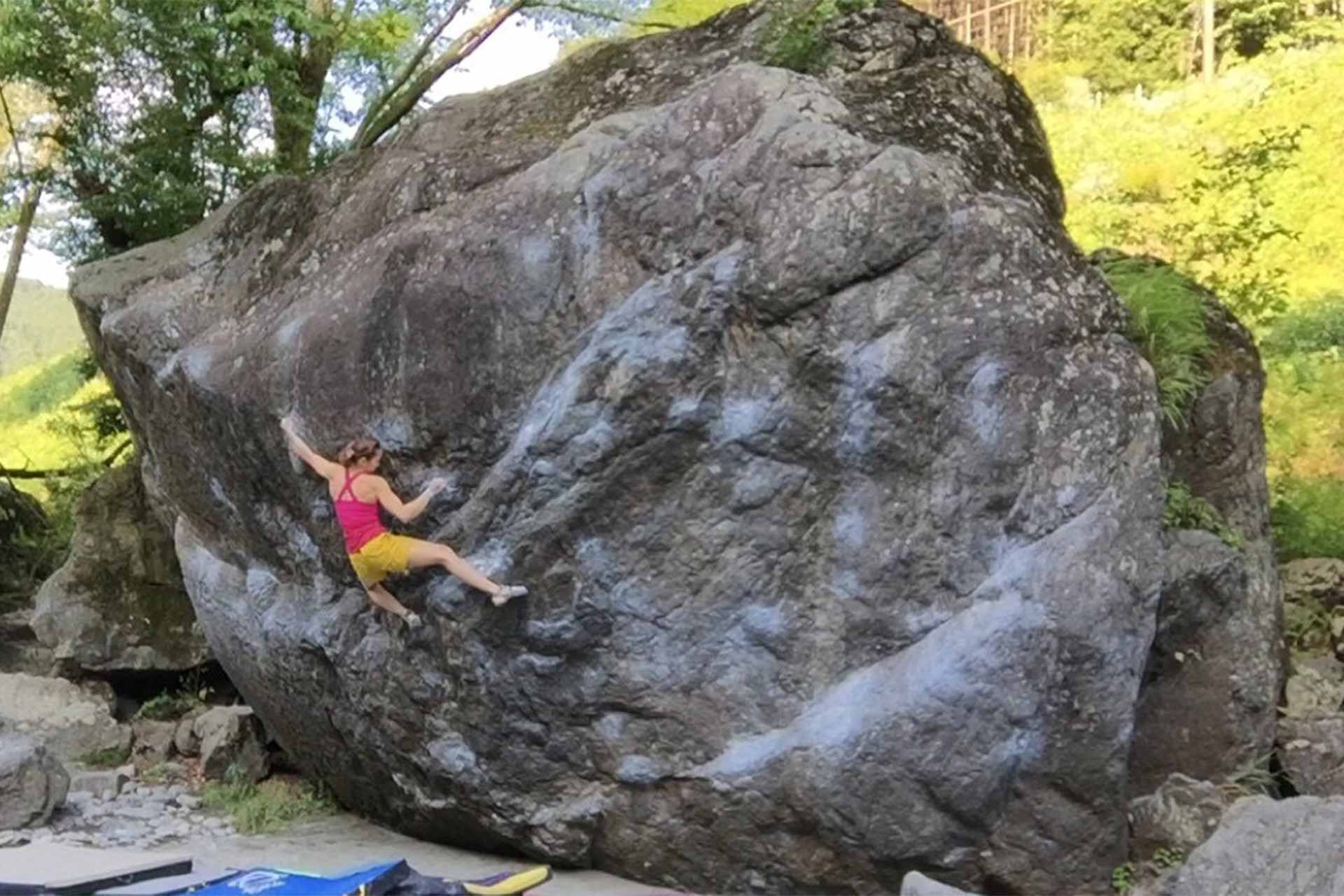 Now that you're retired, how do you approach climbing?
"These days my focus is on promoting climbing while organizing my own events and competitions. Since Climbing will be an official event at the Paris 2024 Olympic Games and the Los Angeles 2028 Olympic Games, I want to support Japanese athletes so that they can compete there, and above all, I want more and more people to know how fun climbing is. Thankfully, there are more climbing gyms in Japan today, going from less than 100 in 2000, when I first started climbing, to more than 600 today. Also, Minato City in Tokyo has announced that it will introduce climbing in all of its elementary and junior high schools. It's a real joy to have an environment where people can get to know and love climbing with ease as young as childhood. On the other hand, we also have to address the issue of training instructors so that they can properly convey this appeal."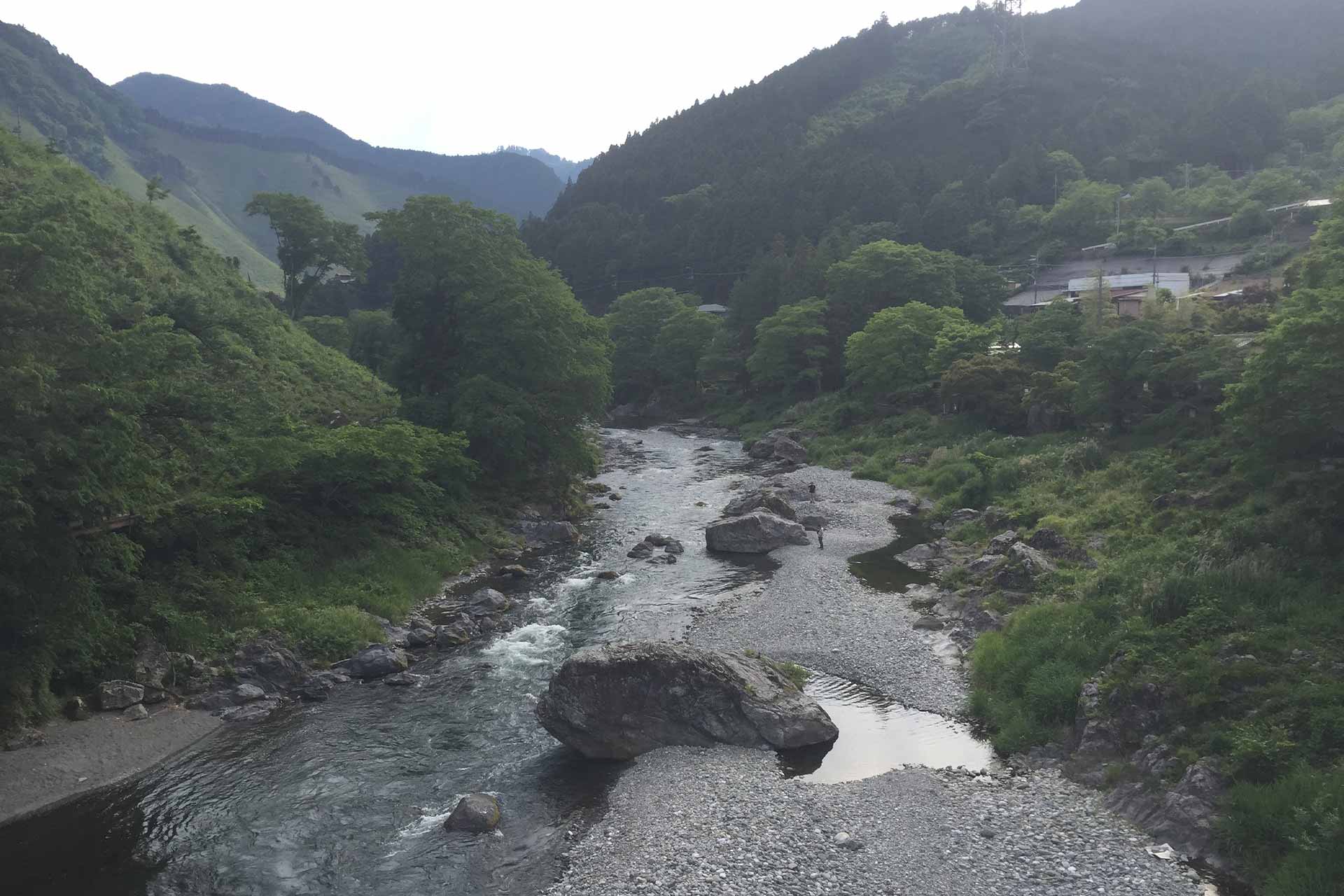 What is a good climbing spot in Tokyo that you can recommend?
"Mitake Gorge in Ome City is a great place to go if you want to try rock climbing in a natural setting. It's just before Okutama, about an hour and a half by train from central Tokyo. There's a boulder there that's known as the 'Gateway to Bouldering', and it is a popular spot for beginners to try their hand at bouldering. Mitake Gorge is actually the first place I ever tried rock climbing, too. When I was in elementary school, my father said to me, 'I know a good spot!' and the two of us went there together, so I also remember it for that. Some people like canoeing on the Tama River, which winds through the rocky terrain there, and climbing in a place like that, with fresh air and surrounded by beautiful natural scenery, is a very pleasant experience. However, since it's a place that anyone can go to whenever they want, good manners are important. Beginners should go to a climbing gym first so they can learn how to fall and control their limits before trying actual rock climbing. Then when you go, bring a mat, brush the rocks after you climb them, and take any trash you produce home with you. Once you've had your fun climbing there safely, make sure that the next climbers can enjoy it the same way. Please show that kind of consideration when you go climbing in a natural environment."
<Profile>
NOGUCHI Akiyo
Born in Ibaraki Prefecture in 1989. Discovered free climbing at the age of 11 and won the Japan Youth Championships after just one year of climbing. In 2008, was the first Japanese participant to win the Bouldering event at the IFSC Climbing World Cup. Ranked #1 in the overall World Cup rankings four times since 2009 and amassed a total of 21 World Cup victories. In 2018, won the Combined Japan Cup and the gold medal at the Asian Games. Won the bronze medal at the Tokyo 2020 Olympic Games. Following her retirement, founded "Akiyo's Company" in May 2022. Using her experience in the sport, she is committed to spreading the popularity of climbing.