The challenge is what keeps me going.
The Oita International Wheelchair Marathon is the world's largest wheelchair-only marathon. HIROMICHI Jun is a champion wheelchair marathon racer; he was second overall in the 1996 Oita International Wheelchair Marathon and has competed in four consecutive Paralympic Games in Sydney, Athens, Beijing, and London. We asked him about his path to becoming an athlete and the appeal of the Oita International Wheelchair Marathon.
Just want to run with the wind once again.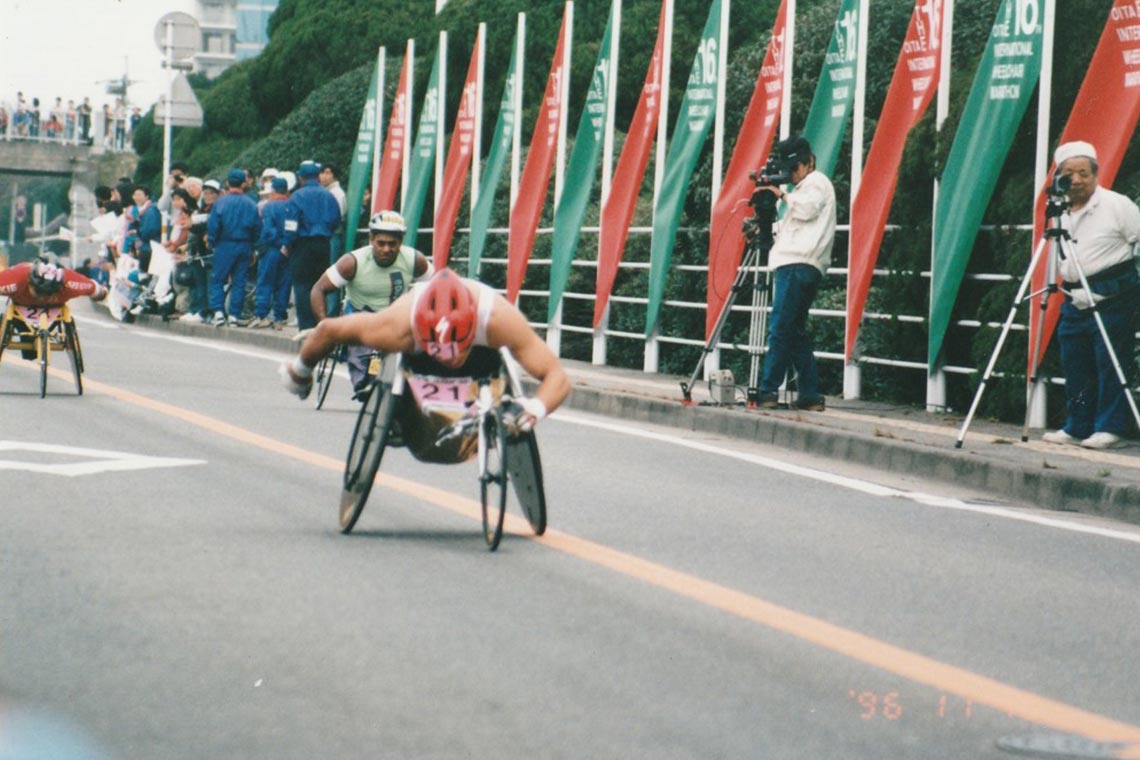 Mr. Hiromichi suffered a serious spinal cord injury in a motorcycle accident during his first year of high school and suddenly found himself in a wheelchair.
"I was shocked when I woke up in the emergency room and learned that I could no longer ride a motorcycle or run on my own two feet. But I was so thankful that I was still alive! When the rehabilitation doctor at the hospital saw me, he said, 'you can play sports even in a wheelchair! Those words saved me, and those words saved my life."
He explains, "I realized that there were still things I could do even if my legs couldn't move the way they once did. The doctor recommended I run a wheelchair marathon, and I was excited at the thought of being able to run again, running with the wind in my face. A few months after I was discharged from the hospital, I was running a wheelchair marathon."
When asked about his impression of the wheelchair marathon, he explains, "I was impressed by the fact that it is a sport that I can enjoy like a sport I used to engage in. There are world-class athletes in every sport, and by working hard to catch up to them, I can compete globally. It's no different from sports for able-bodied people; there is the hardship of training, the difficulty of winning, and the joy of having friends who can compete with you. That's why you can get into it."
The importance of having a hungry spirit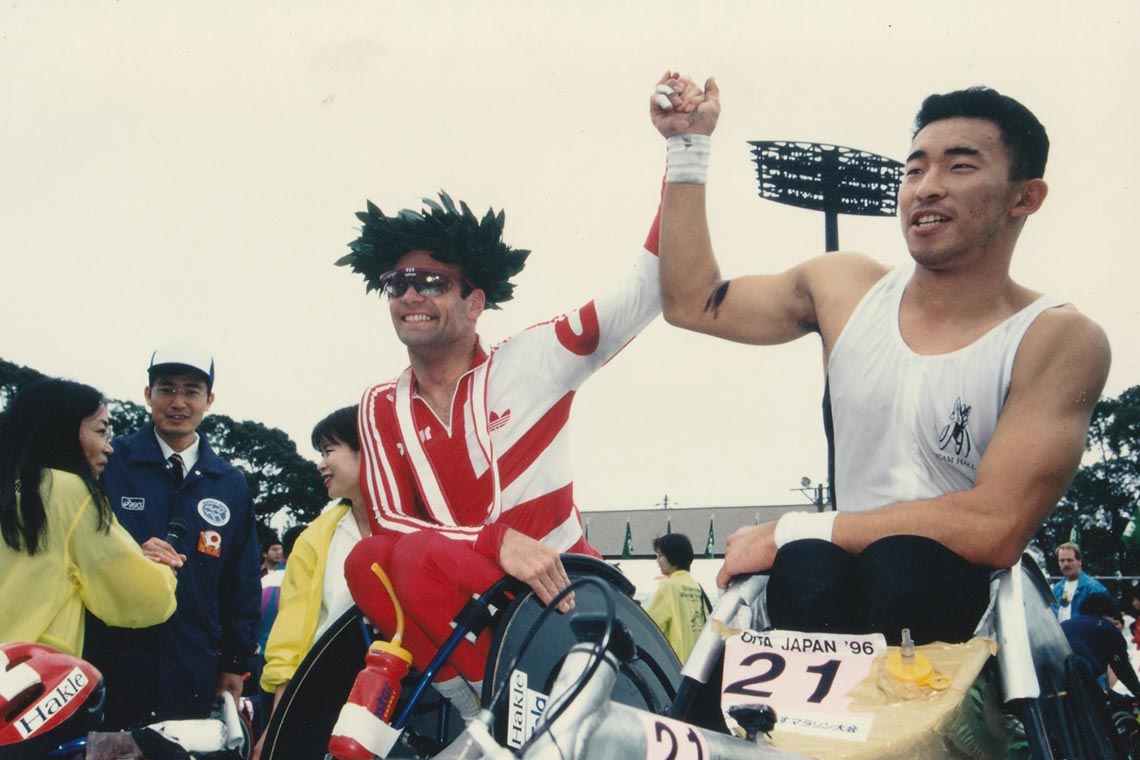 HIROMICHI Jun believes that to excel in sports, you need both physical and mental strength. "In para-sports, the physical functions used vary from person to person. Even though the classes are divided equally, some athletes have an advantage, and some have a disadvantage within their class."
"For example, in my case, my legs are a burden, and my lower body is paralyzed, so I cannot use my abdominal muscles. I sometimes thought that it would have been better if I had amputated both legs so that there would be no aerodynamic resistance. But if I made an excuse, 'that's why I can't win,' that would be the end of it."
"With a hungry spirit, I think about how I can win. Then, as you work hard and become faster than the other runners, it becomes a lot more fun. I learned the importance of never giving up through the wheelchair marathon."
To reach the level he currently sits, Hiromichi trained under world champion Jim Knabe. "First of all, I wanted to be the best in Japan. I asked Knabe, the world wheelchair marathon record holder at the time, to teach me what I needed to do to achieve that goal. I found him at the Boston Marathon and spoke to him in broken English. He gave me his business card and told me to contact him here, and he even let me stay with him at his house in California. He taught me many things, including mental training and how to behave as a professional athlete, in addition to going through a hard training regime with me."
Taking on the challenge of the big stage under the watch of a world champion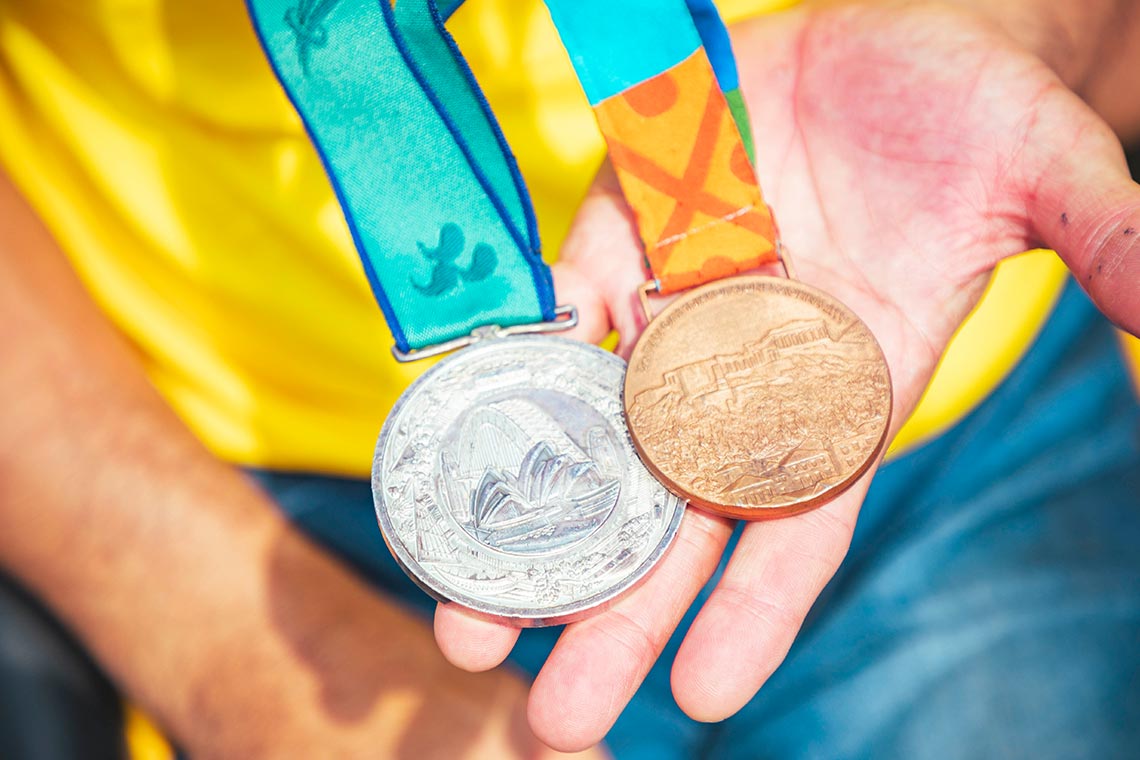 At the 1996 Oita International Wheelchair Marathon, Hiromichi finally became Japan's top wheelchair runner and came in second overall behind Heinz Frey of Switzerland.
"Heinz was in the lead in that race, and I was in second place," he remembers. "I was about to give up when an American rider in the same group said to me, 'hey, Jun, hang in there! That's when I got into gear and could catch up to him before the 40 km mark. From there, I just kept pushing forward. I managed to pull away from the pack, and when I reached the finish line, I burst into tears because I knew I would be the best in Japan."
He thought to himself, "I've finally won!" He says, "I was so happy. I was 22 years old, and thanks to this event, I was ranked second in the world and decided to become a professional."
He competed in four consecutive Paralympic Games, winning two medals, starting in Sydney in 2000. "In Sydney, of course, I was aiming for gold. Before the games, I asked Heinz to let me train with him because I wanted to win a gold medal. He said, 'Yes, but I'm going to win the gold."
"We practiced hard for the competition," he recalls. "The result was silver, losing to Heinz by a narrow margin. I was disappointed that I could have sped up earlier, but when Heinz put the medal around my neck at the awards ceremony and congratulated me, I was moved. Incidentally, Heinz competed in the hand cycle cycling event at the Tokyo 2020 Paralympic Games and won the silver medal at the age of 63. He is truly a legend."
A town where wheelchairs blend in without a sense of discomfort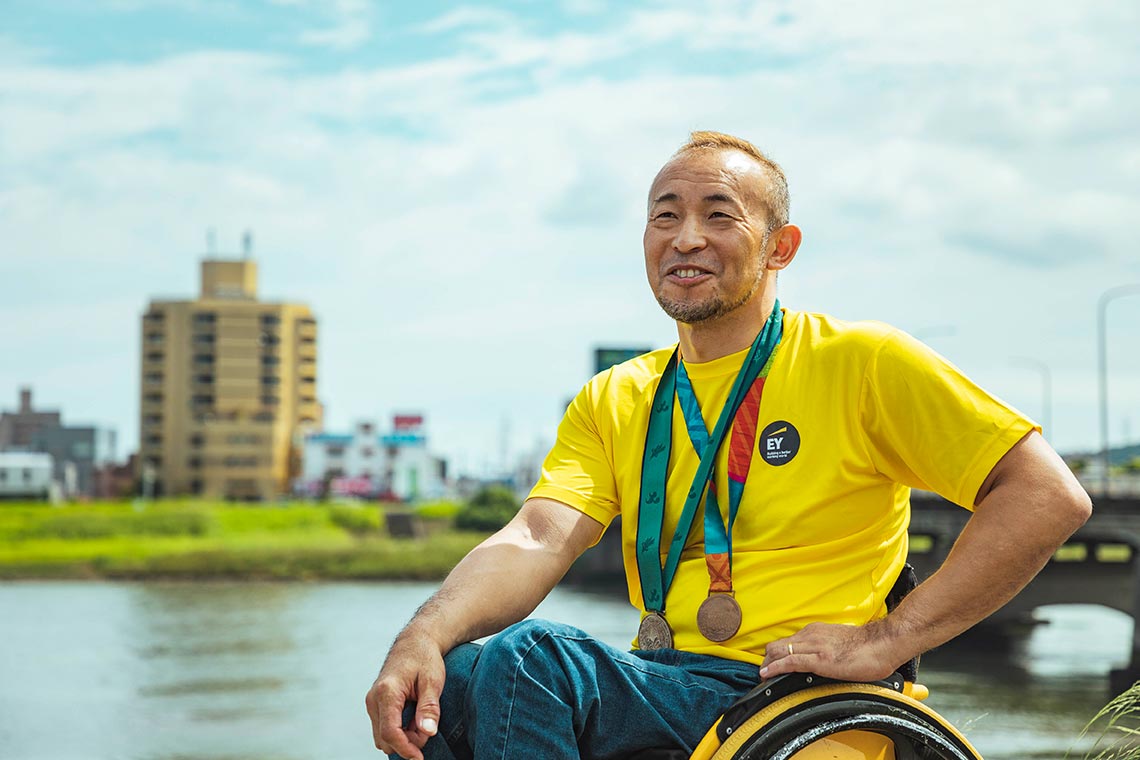 This year marks the 41st Oita International Wheelchair Marathon, where Hiromichi and Heinz have participated many times. What are the highlights of this year's event?
Last year, when the course was changed to a circular course, the world record set by Heinz in 1999 (1:20:14) was broken for the first time in 22 years by Marcel Hug of Switzerland, who ran an astounding 1:17:47.
Does Hiromichi think Marcel will be the dominant force again this year, or will it be a group race? "I have no idea what to expect. Let's watch the race together! I will compete in the half marathon this year, so I will watch the race after the finish line."
"When I meet other athletes overseas, they all say, 'I'm going back to Oita again this year! The atmosphere at this event in Oita is excellent, with many people cheering for the athletes along the roadsides. The local newspaper publishes the athletes' names and records, so everyone buys a copy to take home. Looking around the city, you can see that the streets are barrier-free, and people are always ready to help when there are steps to cross."
"Another attraction of Oita is that wheelchairs blend in without any sense of discomfort. It's so comfortable that I even moved here from the Kansai region (laughs). After the race, athletes and supporters can relax in the hot springs and fill their stomachs with fresh seafood. I would be happy if you could enjoy the race and the city of Oita to the fullest."
<Profile>
HIROMICHI Jun
Born in Osaka in 1973. Hiromichi was paralyzed in a motorcycle accident in his first year of high school. He began wheelchair racing at age 17, and has had an illustrious career, finishing second overall in the 1996 Oita International Wheelchair Marathon, silver in the 800m at the Sydney 2000 Paralympics, bronze in the Athens 2004 Paralympics, eighth in the Beijing 2008 Paralympics, and sixth in the London 2012 Paralympics.

He continues to compete as a professional wheelchair runner in races around the world while working to develop athletes and promote wheelchair racing. He is also active on TV and radio from his base in Oita, while he lives in Fukuoka City, his wife's hometown.