Overcoming hardship to win gold
SUGIMURA Hidetaka is one of Japan's most inspiring sports figures; wheelchair-bound since childhood, Sugimura's cerebral palsy has left him with restricted movement in both arms and legs. But his limited mobility hasn't stopped him from achieving more in his young life than most non-disabled people will in a lifetime.

The champion boccia player won the first individual gold medal for a Japanese athlete in boccia at the Tokyo 2020 Paralympic Games, and the bronze medal for the team he captained. In celebration of his achievements, we spoke with Sugimura about how the game of bocia changed his life, his thoughts on the Tokyo 2020 Paralympic Games, and his newfound appreciation of Tokyo.
A sport that combines skill, strategy, and psychological warfare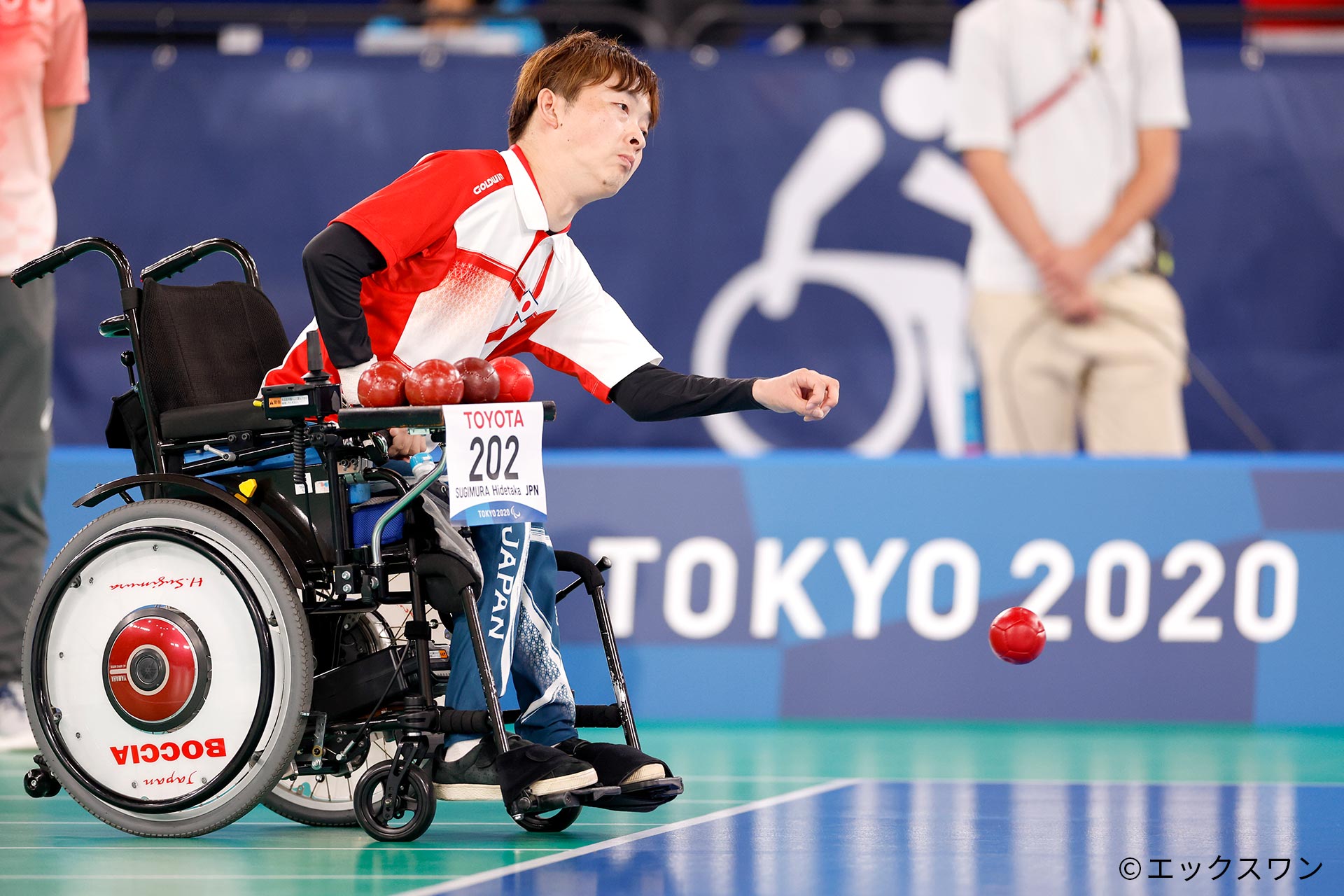 For those uninitiated, boccia is a game similar to the popular leisure sport bocce. The game is played by two competitors who try to roll their balls (six in total each) and get them closest to the white target ball, known as the jack.
Sugimura first encountered boccia when he was in his third year of high school, and it felt like the perfect fit. "I have always liked both playing and watching sports, and when I was thinking about starting a sport that I could play regularly, a teacher at a facility introduced me to boccia," he explains. 
"When I saw videos of international competitions, the rules seemed simple, but there were subtle aspects to the game which appealed to me; throwing techniques, strategy, and tactics with the opponent. I thought it was a very deep game."
A friend invited Sugimura to participate in a team competition held in Shizuoka Prefecture, and with only a little practice, he placed third in the competition.
"To be honest, I was a little disappointed that we lost," Sugimura says. "The frustration of not being able to throw the ball as well as I wanted to, the lack of strategy, and other things I should reflect on kept coming up." The loss, however, inspired him to keep at it: "as I agonized over how to win, I quickly became absorbed in boccia."
Discovering a new self through sport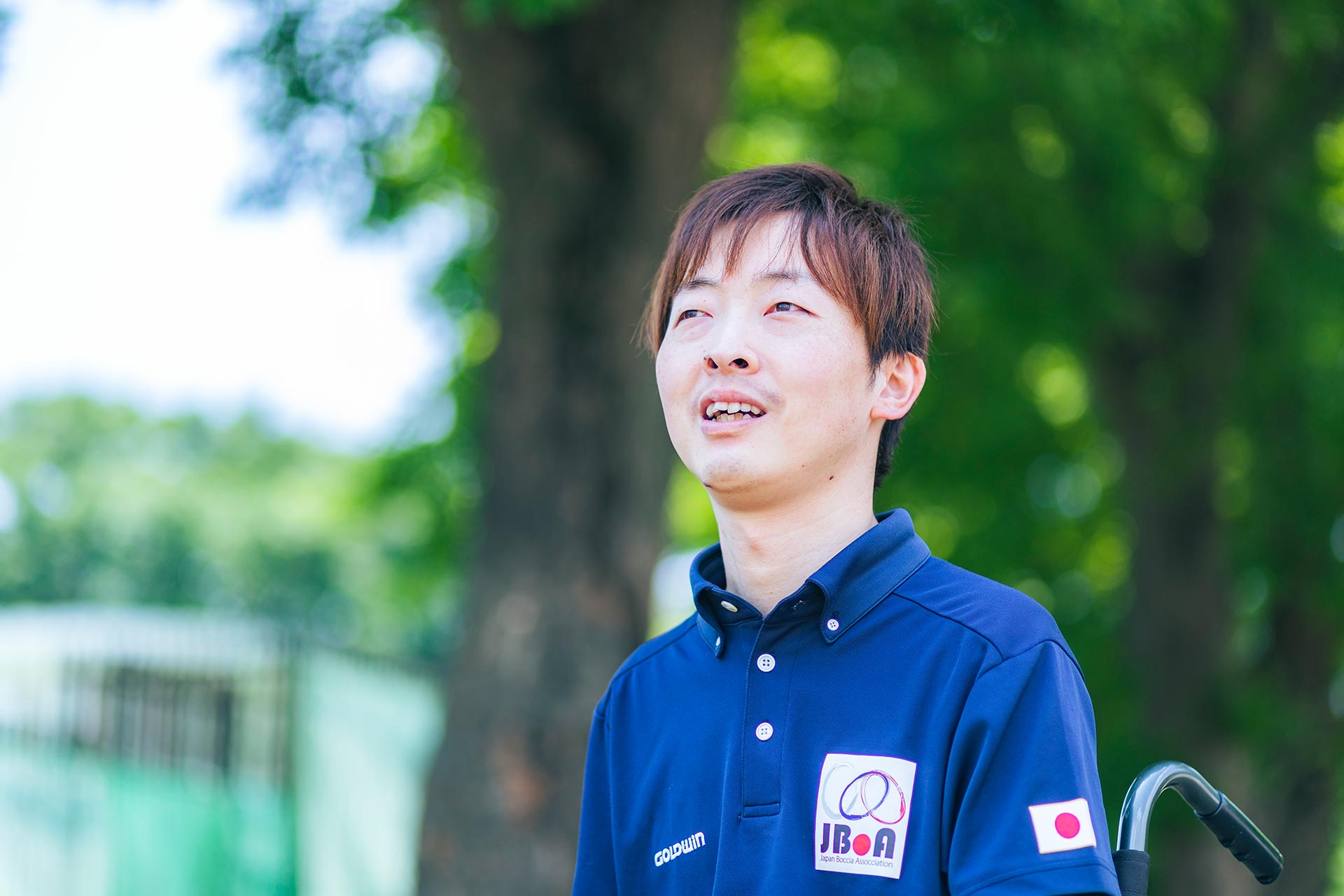 The game of boccia is one of deep strategy. In it, the players throw the ball with all their attention while still considering the number of balls they have left to throw.
The keys to victory and defeat boil down to the subtlety of the throws, and the win can come down to the millimeter. One of the best parts of watching a game of boccia is reading the intention of each pitch thrown by the players and trying to predict what shot they will throw next. 
Sugimura says that discovering the game changed his life dramatically. "I need help and support in my daily life, but on the boccia court, I can think for myself, decide what I want to do, and do it without help from anyone. This realization gave me a great deal of confidence. 
As an athlete, I challenge myself to compete while making "self-selection and focussing on autonomic decision-making. To achieve this is very meaningful, personally. In the game, anything is possible; I can make a big comeback on the last pitch. The attraction of boccia is that it offers such dramatic developments, both in games and in life."
True strength that is demonstrated when pushed into a tight corner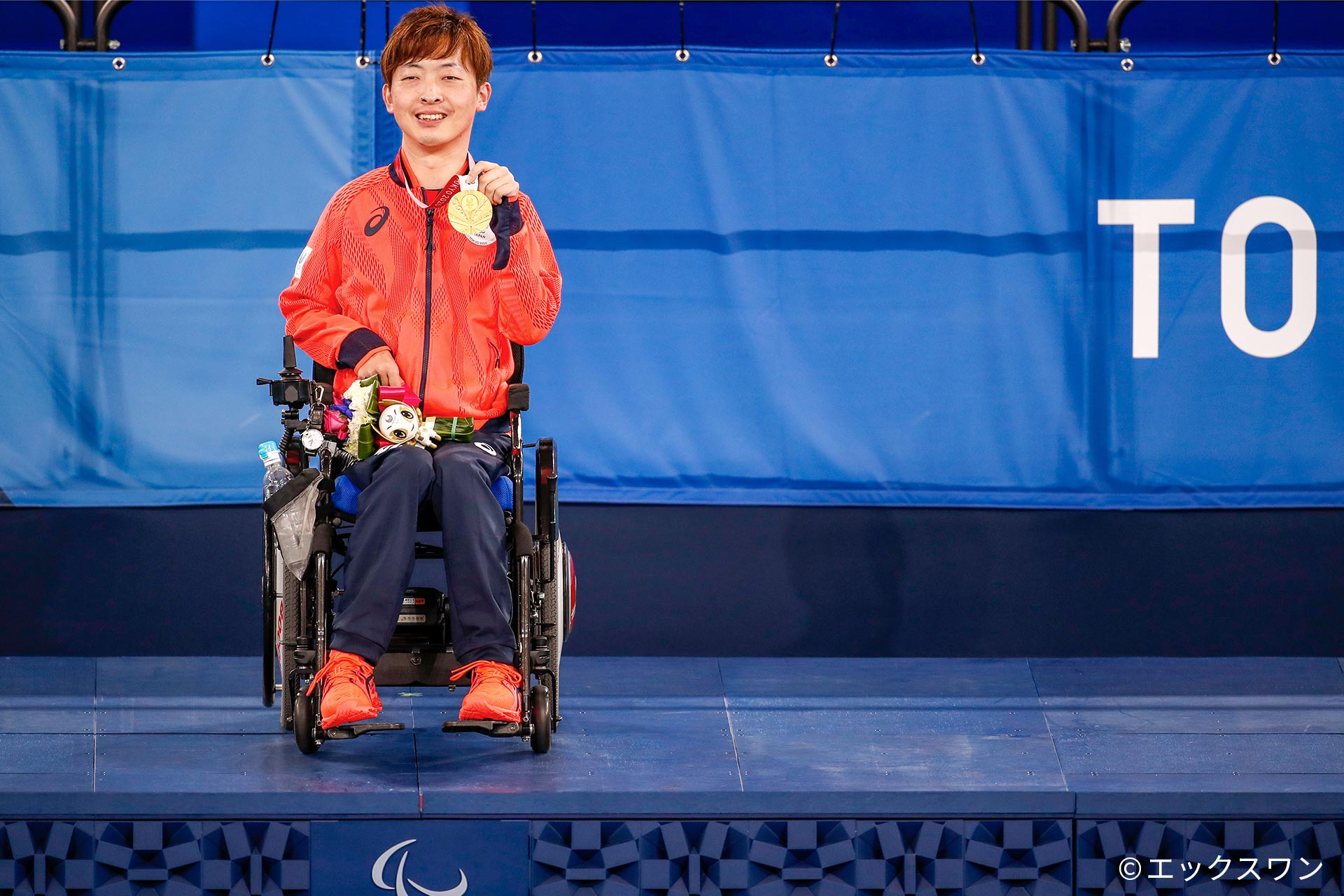 Sugimura competed in three consecutive Paralympic Games, starting with the London 2012 Paralympics. At the Tokyo 2020 Paralympics, which were held in his home country, he achieved a brilliant individual victory.
I was personally impressed by the semi-finals," said Sugimura. I was personally impressed by my semifinal match against Masiel Santos (Brazil), the gold medalist at the London 2012 Paralympics. It was a close match until the last end, and the last ball was the ultimate decider. I threw the ball as I had practiced for so long, and it was exactly as I had imagined! I threw the ball exactly on target and clinched the victory. With zero time left, it was a game of one last pitch. Just remembering it, even though it was me, is a bit numbing.
 In the team competition, in which he served as captain, he won the bronze medal.
In the semifinals, we lost to a strong Thai team. After that, we changed our minds for the third-place match, which was to be held without time to decide, and the whole team talked together about what the issues were, and we were able to compete and win the bronze medal. When I think about it, what I remember are the matches I lost overwhelmingly more than the ones I won. Losing gave me challenges, and I was able to face those challenges, improve my skills, and broaden my play. Losing makes you stronger. I think this ability to grow led to my medal."
Tokyo, a city where you can experience a symbiotic society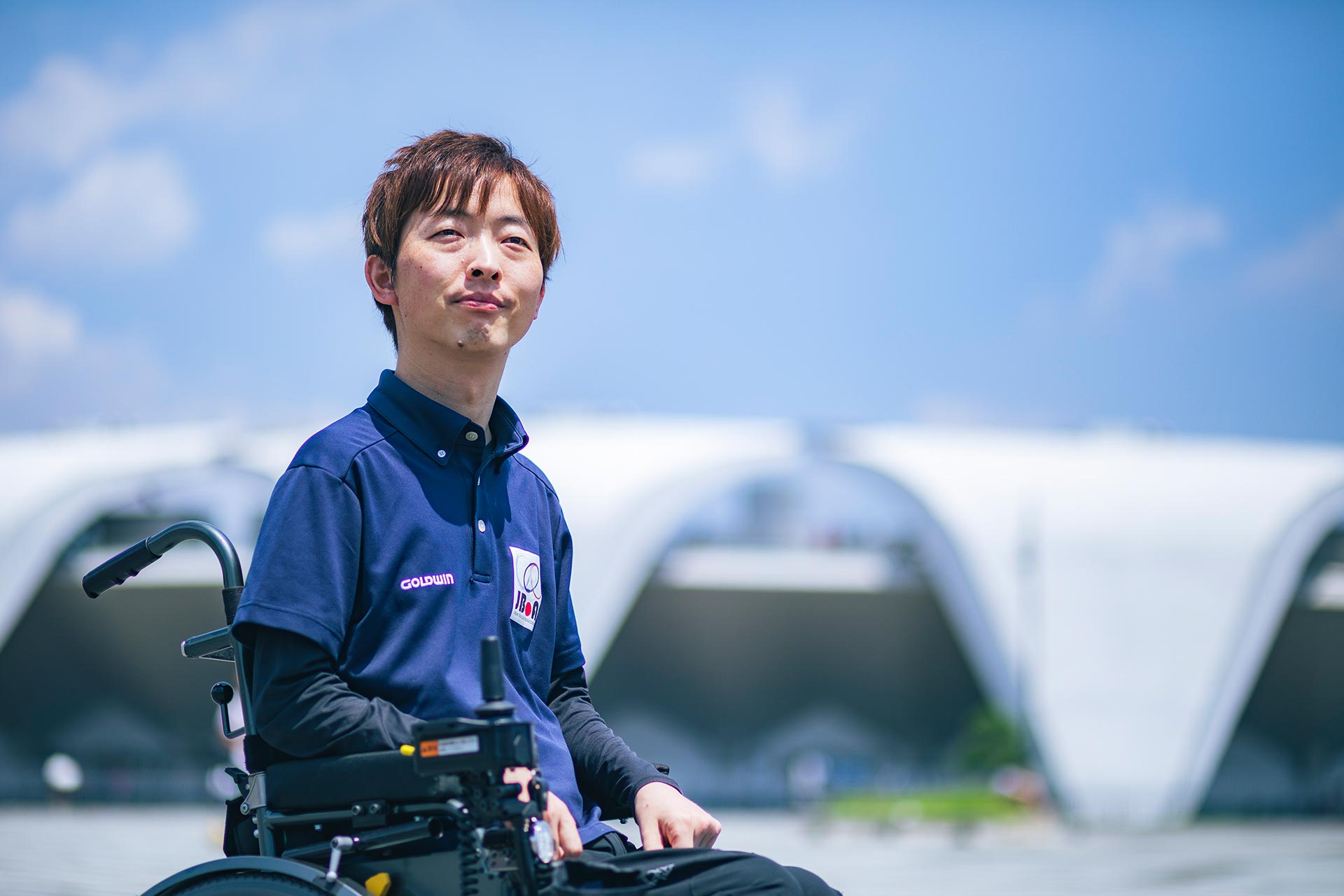 With experience traveling the world, we wanted to ask Sugimura what does Tokyo have to offer that's special on a global scale?
"What I particularly liked about the Tokyo 2020 Paralympics was the meticulous attention to detail. When I returned to the athletes' village after the games, the volunteers kept smiling and waving to me until I couldn't see the bus anymore."
"I felt a sense of calm as I concentrated on the competition. As a city, Tokyo is also very convenient, especially for wheelchair users, as new facilities and stations are barrier-free, making it easy for wheelchair users to get around the city."
Sugimura believes in the power of sports for people of all backgrounds and experiences, "sports are something you can be involved in from all perspectives, whether you are watching, competing, or supporting." 
"You can experience this even more in para-sports. The Japan Boccia Association also holds the Boccia Tokyo Cup, in which all teams, regardless of age, gender, or disability, compete against each other." Through sports, Sugimura believes "we can achieve a symbiotic society that transcends national barriers."
<Profile>
SUGIMURA Hidetaka
Sugimura Hidetaka is a member of Izu Nursing Care Center Co.
Born in Shizuoka Prefecture in 1982, he started playing boccia in 2000 when he was a senior in high school.

He has competed in three consecutive Paralympic Games since London 2012. At the Rio 2016 Games (Team BC1-2 class), he won the silver medal in the team competition. At the Tokyo 2020 Games, he won a gold medal for an individual (BC2 class) and a bronze medal for team (Team BC1-2 class). His specialty is "Sugimu Rising," a term was coined to describe Sugimura's specialty throw, which through precisely aimed tosses he places his ball on top of a crowded ball and touches the jackball.