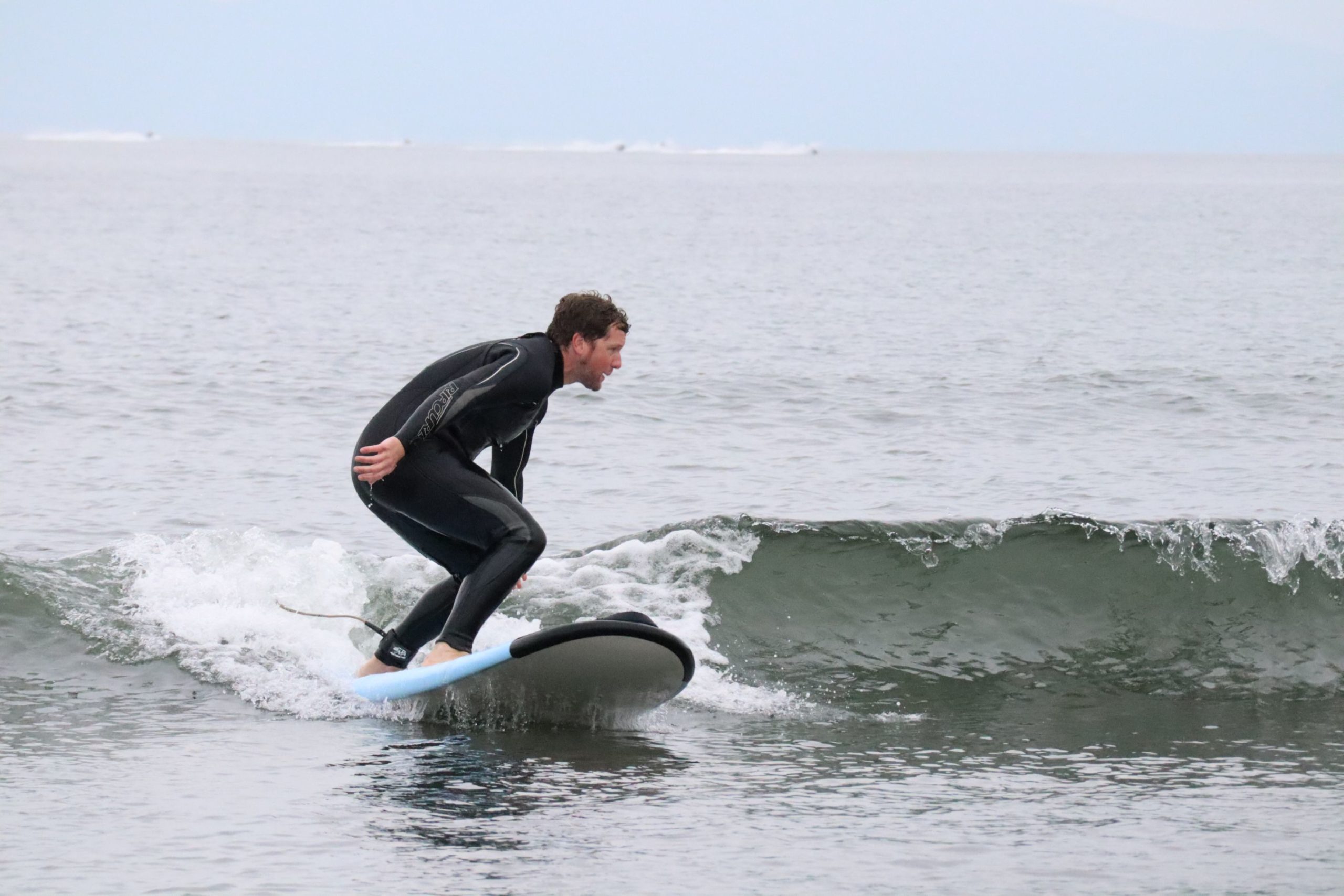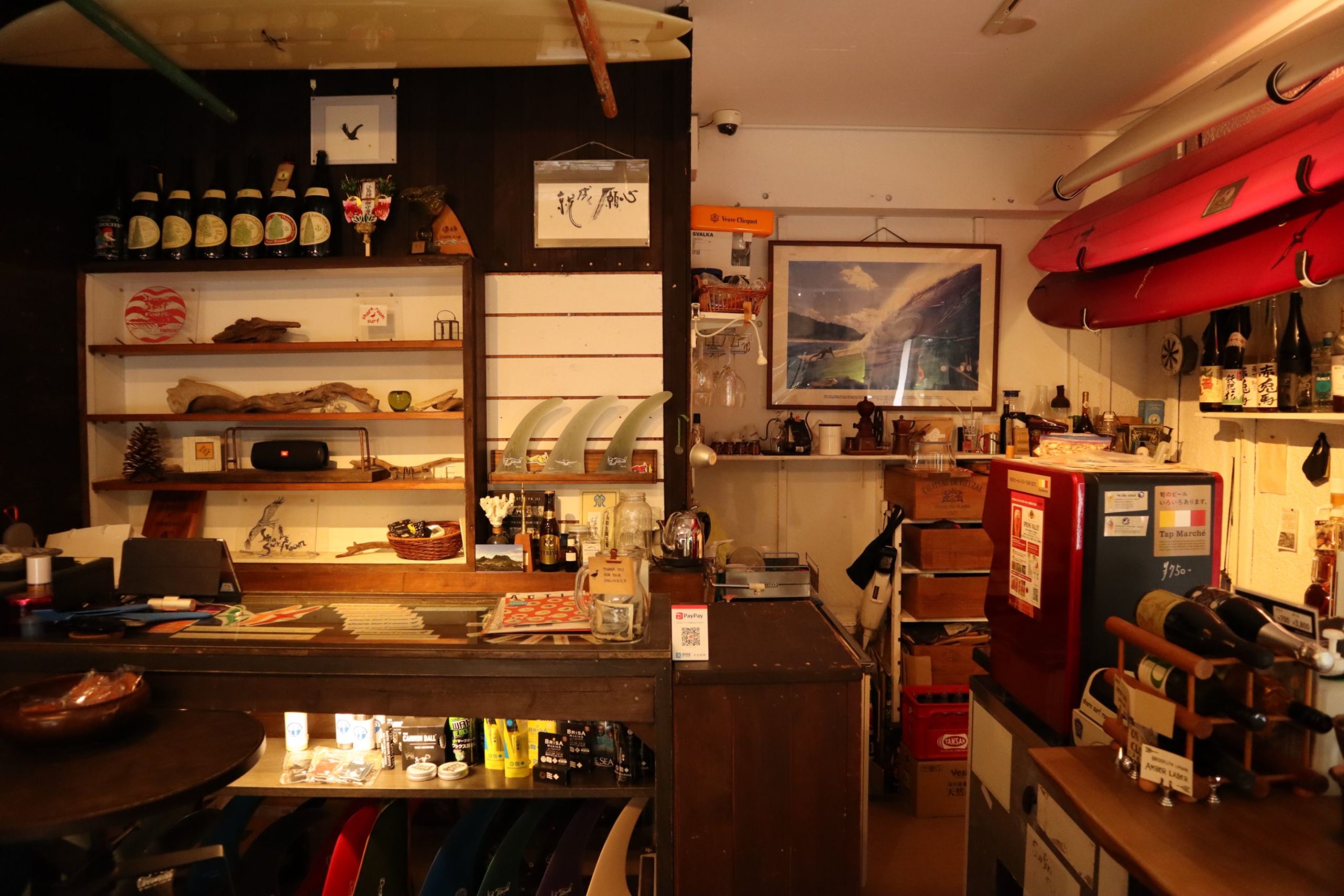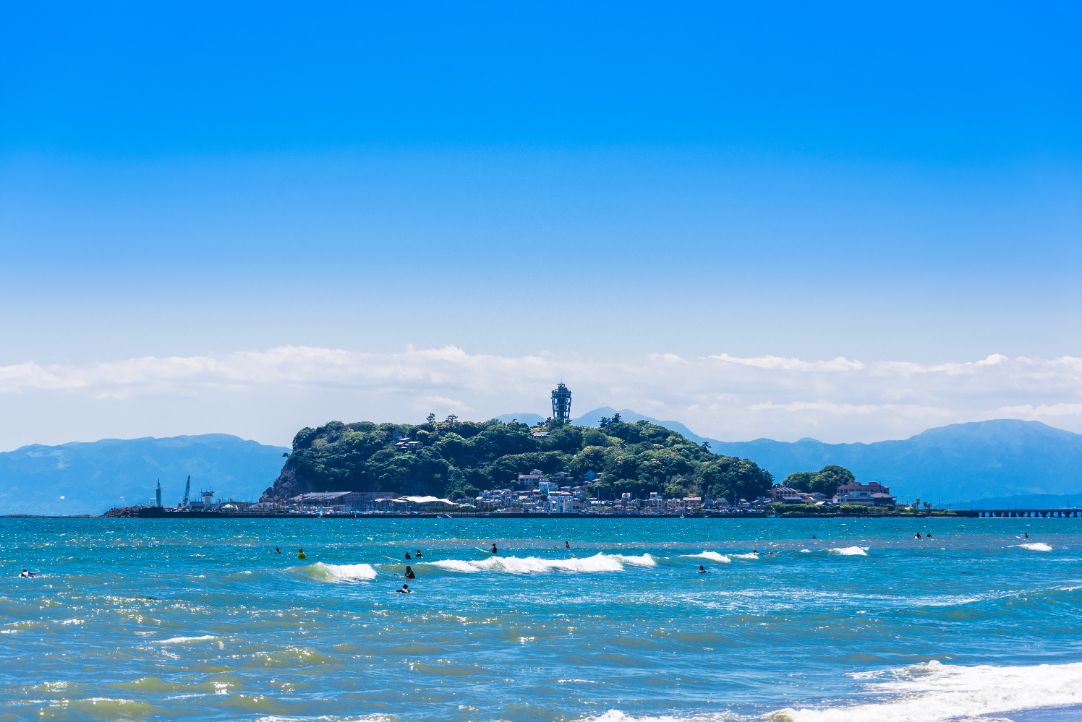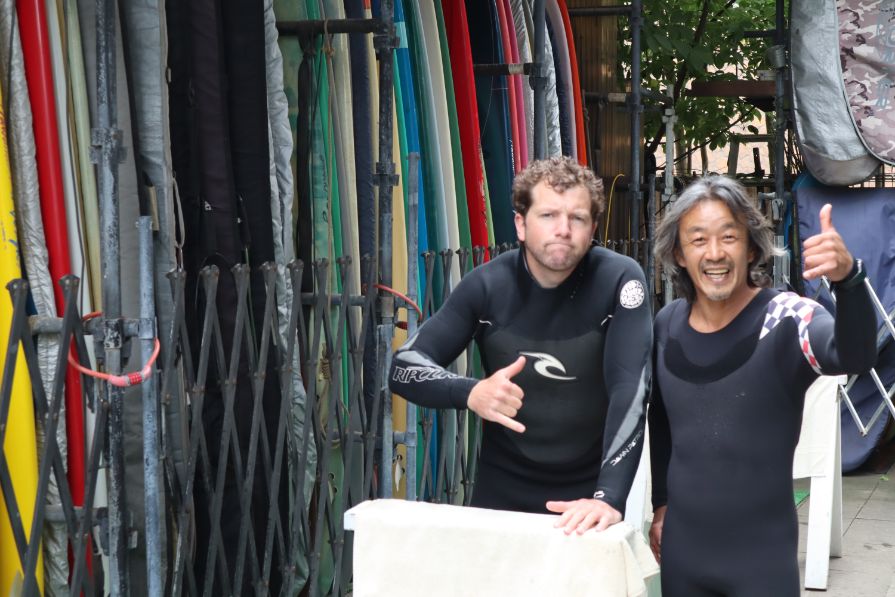 Share Surf Room; chill-out space in Shonan
Did you think you could do a surfing day trip while you're in Tokyo, the biggest metropolis on the planet? Well you can, and many who live and work in the city do just that if they have a free day! You may be considering Enoshima for a day trip, but this stretch of coastline is actually the main area for casual surfing near Tokyo, as well as stand up paddle boarding (SUP), and even windsurfing.
Hobby surfers in Tokyo generally use a "board locker" service down in Shonan, which lets them store their gear for a monthly fee. Beginners with no equipment of their own have many options to rent boards and wetsuits, and of course get lessons if they feel the need to; although you may want to make a reservation for lessons just in case. Like many things in Japan, they make the process extremely easy, and best of all, everyone is very enthusiastic and welcoming. There's no "locals only" atmosphere that you hear associated with hardcore surfing.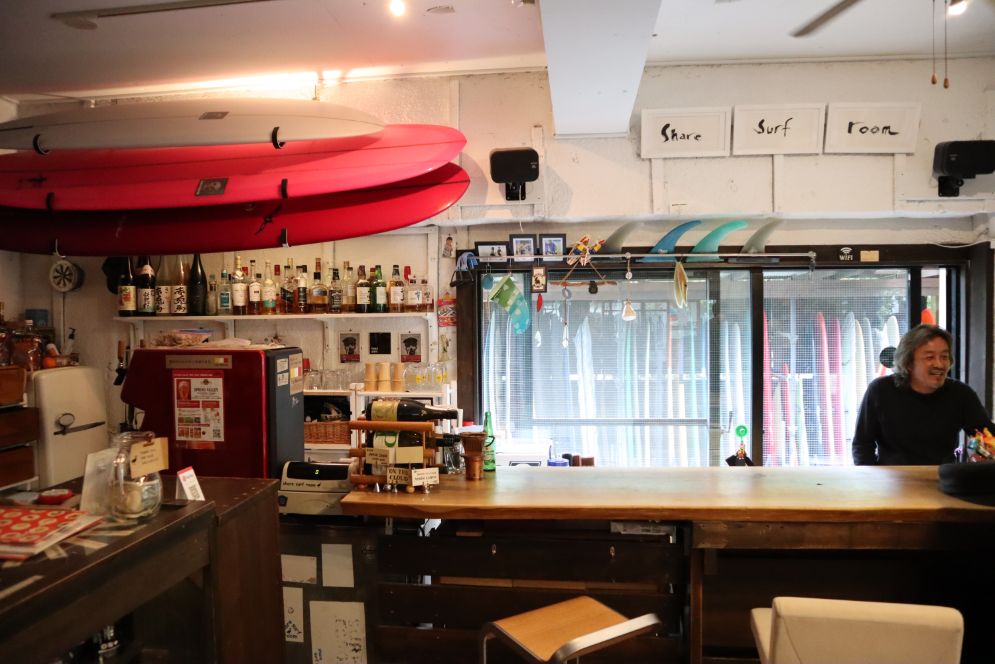 The Share Surf Room, the Place to Be
Our own surfing experience started in a hub of surf culture down in Shonan. The "Share Surf Room" is hard to describe in one word, but it's basically a one-stop shop for everything you need to have an awesome day at the beach here. You can of course rent a surfboard or SUP board and get lessons, but the location is also designed to be a pre-surf and post-surf "chill-out" space. The inside is a small shop with surf knick-knacks and apparel for sale, a bar serving both alcohol and soft drinks, and the wood deck out back is open to hang out on for as long as you please.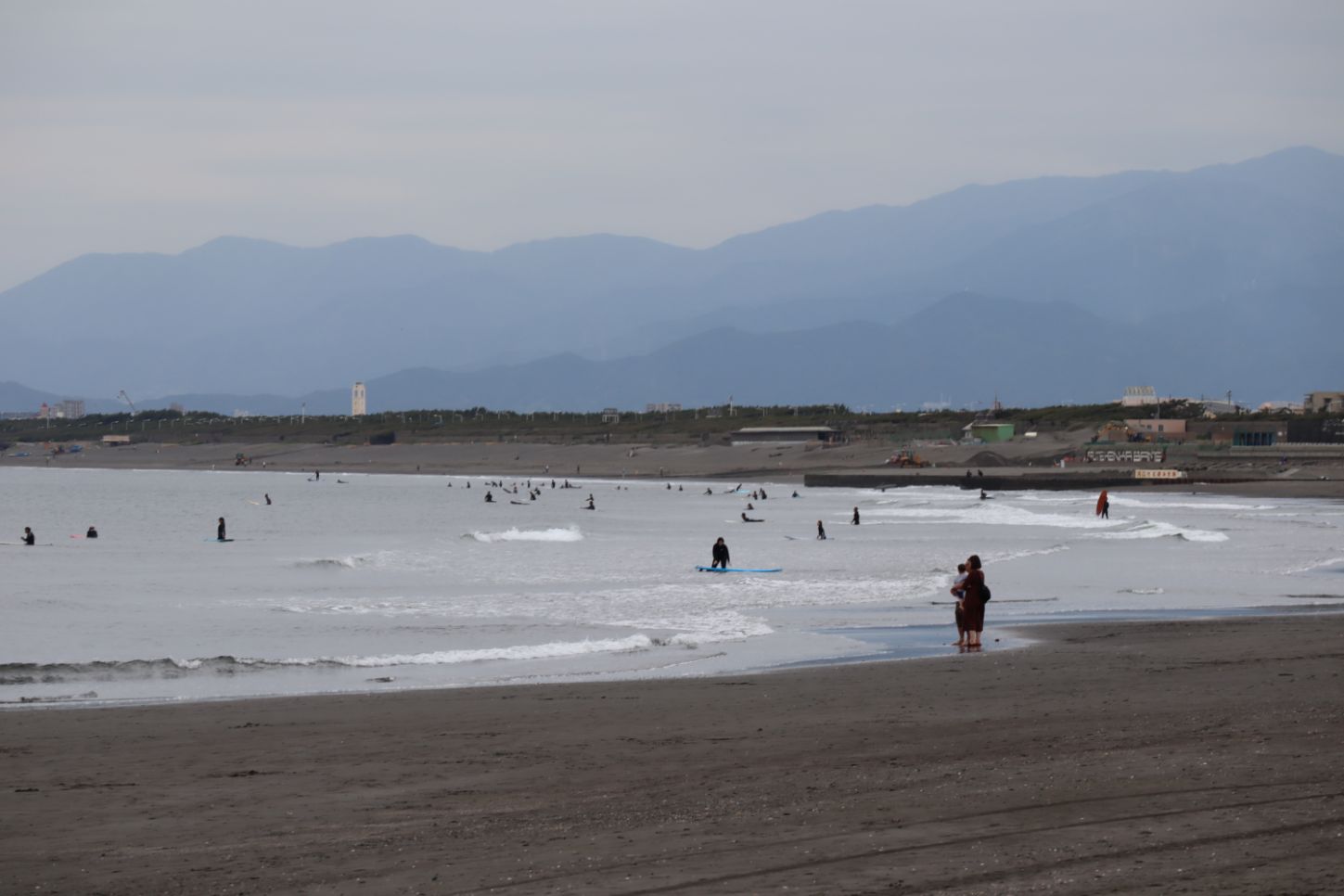 The owner, Arata-san, is a real swell guy; pun intended. He's been an avid surfer in Shonan since his college days, and is ready with a smile to help you start surfing yourself. We strolled up to the shop with some snacks we got at the convenience store, and after he set us up with wetsuits and boards, we were off on foot to the beach (just a 3 minute walk). The day was subtly cloudy, but still had clear views of Enoshima in the background. After a quick warm up on the beach, and some pointers on how to stand up with proper form, we waded out into the surf. The area is popular for its long sand bar extending well out into the water, making it shallow enough to stand where the waves break, as well as giving the waves a nice, curling shape.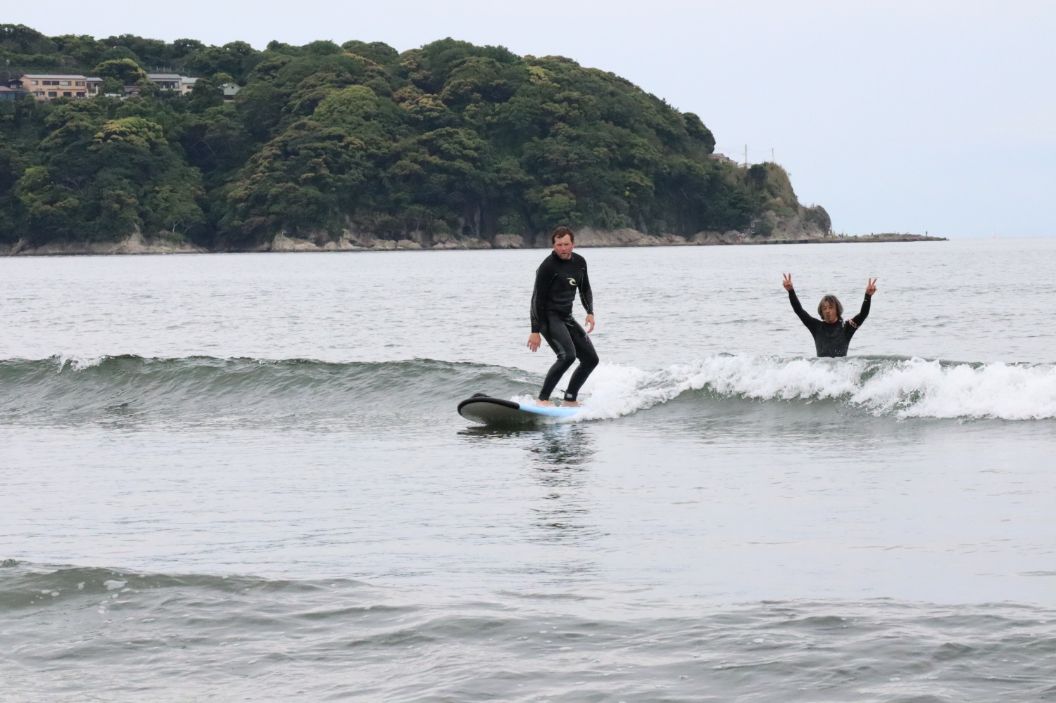 The thick, buoyant boards he had us using made standing up very easy. While the waves were quite small that day, there was just enough "push" to give us the speed to pop up to our feet. We practiced paddling, but Arata-san was right there to give us a push at the right moment to catch the wave. Walking down to the beach barefoot, seeing people coming and going with boards on their bikes, then getting into the water among other friendly surfers made me instantly see how people can get hooked on surfing. Of course, standing up and carving the face of a wave is the goal, but I also felt that the process as a whole is what makes surfing so enjoyable; meeting up with friends, having a coffee (or maybe some beers on a hot day?), breathing the ocean air, some exercise on the beach, then diving into the water for some riding.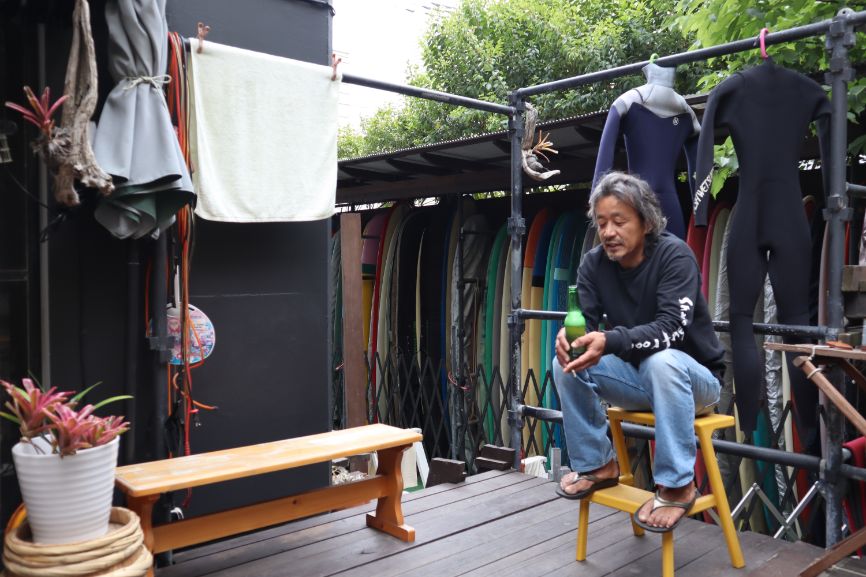 Winding Down after a Session; Sometimes the best part!
After both some SUP riding and surfing, we cruised back to the shop to shower off and change. Relaxing out on the wood deck behind the shop, Arata-san and I had a conversation about my home town of North County San Diego, which he said he visits almost yearly! He even knew my favorite Mexican food places! He was jealous I was from such a "cool" place, but I have nothing but praise for Shonan as being more affordable, friendly, and convenient. After entertaining us for a bit, some of his friends stopped in to the shop for beers, and the place was soon buzzing with chit-chat about the day to day in Shonan, when the next swell was coming, and how hot it's getting already!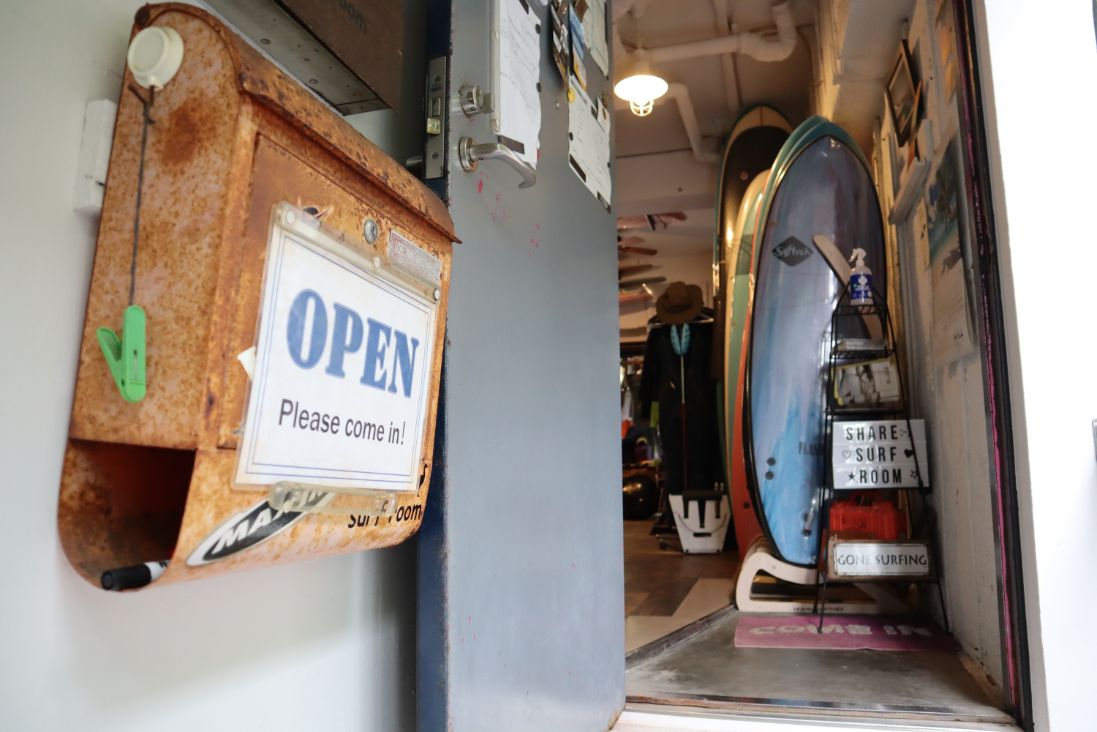 You may have many reasons for coming to Japan. Urban exploration, food, long-standing traditional culture, trips into deep nature… but don't think you need to be in Indonesia or Thailand to have some fun in the sun, or better yet surf! It can't be said enough how easy it is to show up in Shonan and catch a few waves. Even just an hour in the water before you get lunch or explore the area is sure to boost your spirits. Get stoked in Shonan!