Classic British Pub in the Heart of Tokyo
If you're looking for an authentic British-themed pub where you can enjoy the UK's classic rock, food and humor, The Aldgate is one place to go.

Opened in 1995, the Shibuya establishment started as a rock music bar. "We have 3,000 CDs and 3,000 records. But a rock music bar only has rock music fans. I like British rock, so we changed the theme of the bar—British atmosphere, food, beer and interiors. Our catchphrase is 'It's a small Britain!'" said owner Hiroyuki Hanaka.

The bar features Tudor-style interiors with old wood, dim lighting, candles and even a fake fireplace. The drinks list is extensive, with British, Irish and Japanese beers on offer, as well as wine and cocktails. "Drink sake for the sake of it!" is written across the chalkboard menu above the bar, with a list titled "Pub Manners" on the back wall. "Of course, we have IPAs from other countries, but we pride ourselves on our English ale and beer," said Hanaka, after revealing that Old Speckled Hen is his personal favorite. "Our target customers are English-language speakers," he said, pointing out that the menus are in English.

The bar also serves traditional English food. "English food has a bad image—a bad stereotype! But when customers come here and try our food, they say 'oh it's good!'" he said. The menu features classics such as pie and mash, fish and chips, cottage pie, and even Cornish pasties. The food is all homemade and the taste will transport you to a classic British countryside pub—without leaving central Tokyo.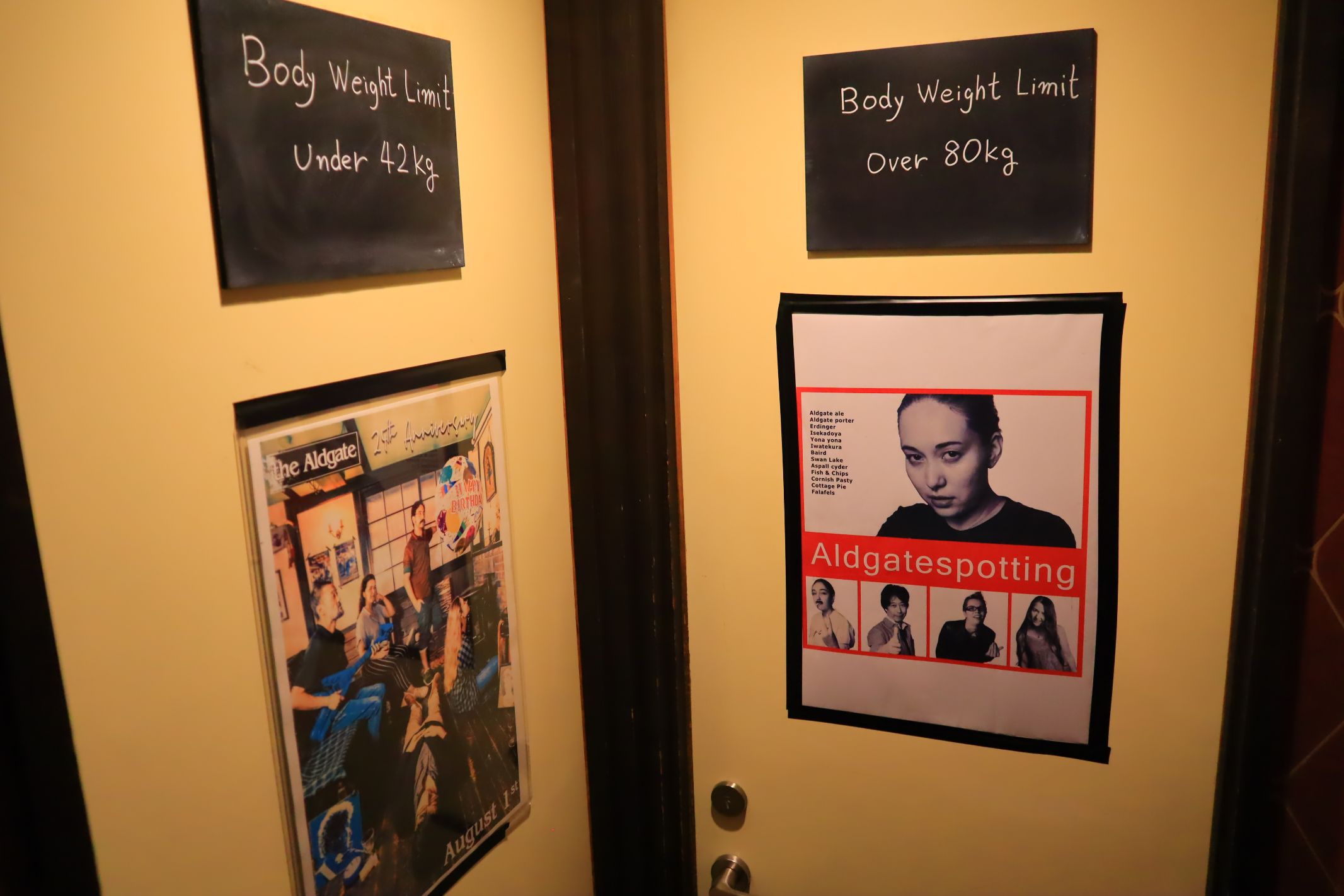 Lots of Laughs
The Aldgate's decorations are informed by classic British humor. The toilets are not separated by gender, but by how heavy you are. One toilet door has a Trainspotting movie poster, and the other an Oasis album cover—both of which were recreated by, and feature images of—the staff. Jokes have also found their way into the menu. If you order a drink off the fortune cocktails list, you will be given a funny fortune written on a piece of paper. To be able to order a Baird Beard Beer IPA, you need to have facial hair—but for those who can't grow a mustache, the bartender will supply you with a fake one!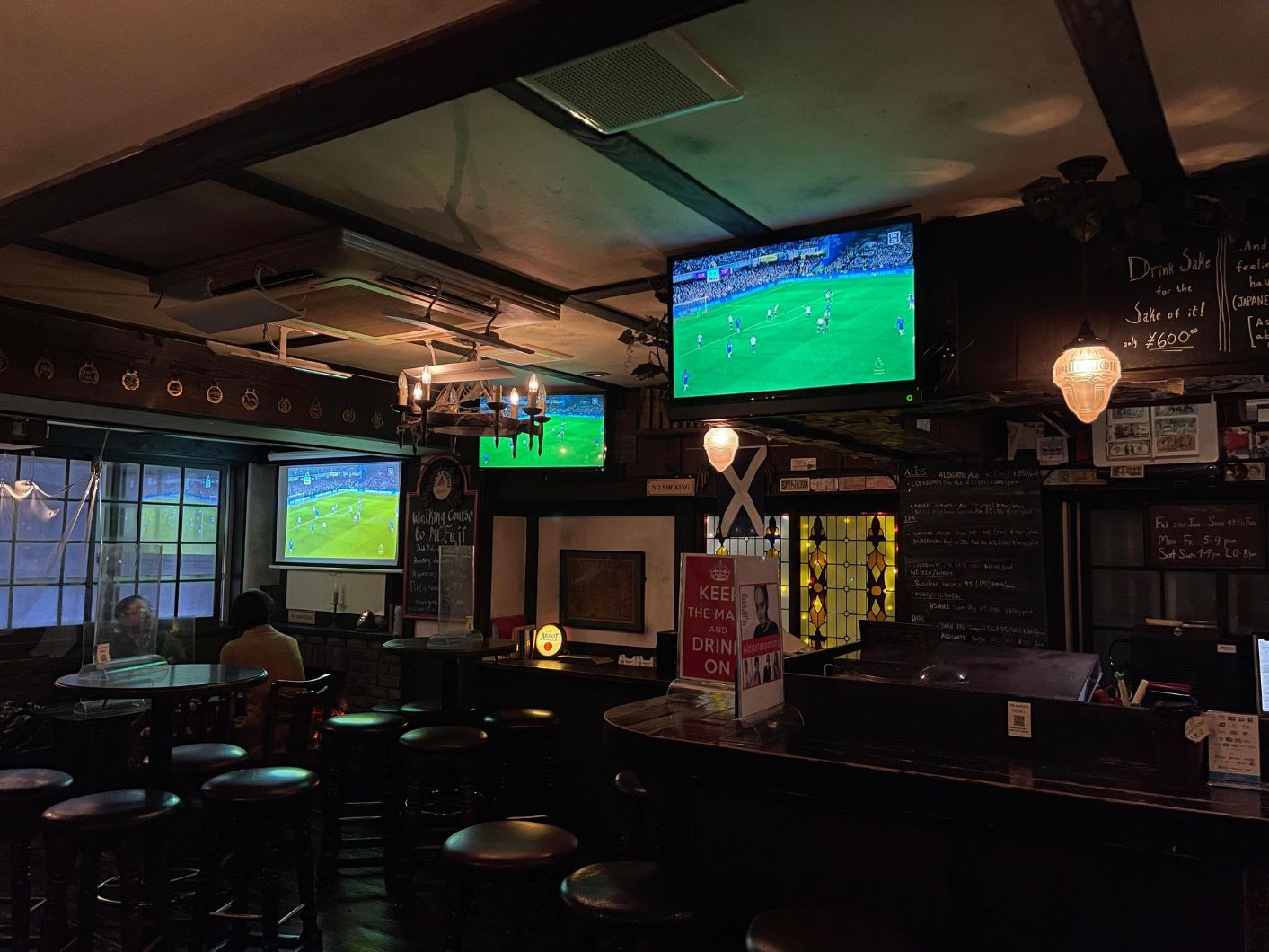 Sports Showing
The Aldgate, like every traditional British pub, also shows sports. Rugby and football are shown on four screens—one projector and three TVs. Almost all the showings are live; however, sometimes due to the time difference they play repeats. "We play games from the Champions League, The Rugby Championship, and The Six Nations Championships," said Hanaka. When the Rugby World Cup 2019 was held in Japan, the pub was full of foreigners and Japanese locals who enjoyed the matches with a pint of British beer in their hands. However, while the sporting world is in its quieter phase, The Aldgate returns to its rock roots, keeping the tunes playing well into the night. If you are intrigued by this bar—or indeed by the humor of the owner and his staff—follow their Instagram: https://www.instagram.com/thealdgate/
When it's once again easy for overseas travel to resume, make sure to put The Aldgate on your Tokyo itinerary.